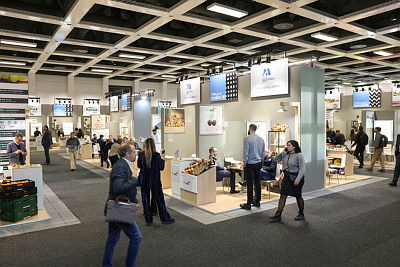 Berlin, 15.05.2023
Companies can still secure their stand space until the end of July and feel the "heartbeat of the fresh produce trade" from 7 to 9 February 2024.
FRUIT LOGISTICA, the leading trade fair for the global fresh produce trade, is pleased to announce that exhibitor registration for the highly anticipated 2024 event is now open. Companies have until the end of July to register to exhibit at this unique and must-attend trade show, which is at the heart of the fresh produce trade industry.
Following the overwhelming success of this year's edition, the next FRUIT LOGISTICA will take place from 7 to 9 February 2024. It promises to be an indispensable opportunity for companies looking to meet the right people and forge valuable and sustainable business relationships.
Its new motto, "The Heartbeat of the Fresh Produce Business", reflects the show's central importance to the industry and underlines its ability to sustain and promote commercial growth.
A total of 63,000 trade visitors and 2,600 exhibitors from 140 countries and all five continents attended FRUIT LOGISTICA 2023. More than 75 per cent of trade visitors were in management positions, which means that many deals were concluded directly on site in Berlin. Almost 90 per cent of exhibitors expected their participation to have a positive impact on their business.
"FRUIT LOGISTICA brings the right people together, provides them with the latest information and gives them a platform to showcase their latest innovations," explains Project Manager Kai Mangelberger. "This is a great way to come out of these stormy times with a tailwind."
Exhibitors can still register for FRUIT LOGISTICA 2024 until 31 July 2023. Detailed information on stand registration can be found on the FRUIT LOGISTICA website. The FRUIT LOGISTICA team in Berlin or one of Messe Berlin's 150 representatives abroad will be happy to help.
About FRUIT LOGISTICA
FRUIT LOGISTICA is the leading trade fair for the global fruit and vegetable trade and represents the entire value chain of the fruit and vegetable industry, from the grower to the point of sale. At FRUIT LOGISTICA 2023, over 2,600 exhibitors from 92 countries presented their products, services and technical solutions. Around 63,500 buyers and trade visitors from 140 countries attended the event. The next FRUIT LOGISTICA will take place in Berlin from 7 to 9 February 2024.
About Messe Berlin
Berlin has been a trade fair venue for 200 years and has been one of the most important in the world for many decades. As a state-owned trade fair company, Messe Berlin conceives, markets and organises hundreds of live events every year. The aim is to be an outstanding host to visitors at all events, to provide the best possible business impetus and to ensure fair conditions for everyone. This self-image is reflected in the company motto: Messe Berlin – Hosting the World.
Photo Credit: Messe Berlin