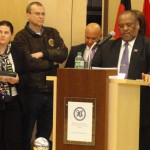 On the afternoon of 20th October, 2011, the scene at the South African Embassy in Berlin presented a gala atmosphere. The SADC-Ambassador's Group to Germany used the occasion to launch SADC DAY celebrations in Germany to which members of the Diplomatic Corps and a large group of children were present. Guest of Honour was Frau Bettina Wulff, wife of the President of the Federal Republic of Germany.
The guests were greeted by a choir of the Nelson Mandela School Choir (Berlin) with a rendition of the SADC Anthem:
SADC, SADC dawn of our certainty
SADC, SADC dawn of a better future
And hope for regional and universal integration
Towards our peoples unity and harmony
Cradle of humanity
Cradle of our ancestors
Let us praise with joy, the realization of our hopes
And raise the banner of solidarity
SADC, SADC, SADC, SADC dawn of our certainty.
Thereafter, the guests were welcomed by Rev Makhenkesi Arnold Stofile, Ambassador of the Republic of South Africa to Germany, who declared that the world belongs to our children and the adults are only temporary custodians of it on their behalf.
The main address was presented by the Chairman of the SADC-Ambassador's Group to Germany, Ambassador Neville Gertze of the Republic of Namibia. He said:
"On the 17th August every year, the citizens of SADC come together to celebrate SADC DAY. As we know, here in Berlin, August forms part of the summer holidays and it may not have been easy for us to gather during that period.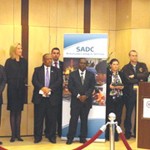 We have dedicated this year's SADC DAY to "the Protection and Development of the Child". It pleases me to inform you that the SADC member states have put in place plans and programmes which ensure that children have equal access to education and health care and are not subjected to any maltreatment which may cause them to develop a negative self-image. That they are also protected from all forms of discrimination, economic exploitation, trafficking, violence, and that they have access to information services and facilities on their own rights".
Ambassador Gertze lamented: "Despite all these achievements, in many of our countries there are thousands of orphans and vulnerable children, who are burdened with challenging responsibilities such as heading households".
Continuing on this theme, the Namibian Ambassador said: "It is our firm belief that this Day will be more meaningful when it involves children. This will help them to understand the role young citizens can play in the process of improving regional integration. As we speak of regional integration, we remember the importance of developing bridges of understanding across continents. Today we would like to thank the children of the various German organizations for their presence and hope they will enjoy themselves, in particular the games".
Explaining the activities the SADC-Ambassador's Group to Germany, its Chairman said:
"The SADC Ambassadors in Berlin, driven by the spirit of unity back home, have decided to form a group to discuss and pursue matters of mutual interest. In order to have vision and a clear direction of its activities in Germany, the SADC Ambassador's Group developed a strategic plan in 2008. Since then, guided by this Strategic Plan, the Group carries out a number of political and economic events every year. In 2009 the Group held an energy conference in Frankfurt which was a huge success. A conference on agriculture and food security in the region is planned for 2012. This initiative aims at arousing the interest of the German private sector to explore investment opportunities in the agriculture sector in the SADC countries".-
The Ambassador of Namibia concluded his speech with an appeal. "We would appreciate your continued support for taking our relations to greater heights this year and beyond between SADC and the Federal Republic of Germany. We have no doubt that you will continue to stand by us as we tackle the challenges of building peace, prosperity and democracy in our countries".
Thereafter, Ambassador Neville Gertze, handed over a cheque to Mrs Bettina Wulff as a donation for Märchenland e.V. This organisation was founded in 2004 to preserve and promote the cultural values of German fairy tales. It is the only centre of its kind in Germany.
At the end of the official part of the ceremony, the guests were entertained to a mannequin parade of Traditional Dressing from SADC countries and some games from children of Malawi, Mauritius and Mozambique. Traditional food from various countries was served to bring down the curtain on a very memorable and enjoyable afternoon.
• SADC – Southern African Development Community consists of 15 members, viz.
Angola; Botswana; Democratic Republic of Congo; Lesotho; Madagascar; Malawi; Mauritius; Mozambique; Namibia; Seychelles; South Africa; Swaziland, United Republic of Tanzania; Zambia and Zimbabwe.
The SADC, formerly Frontline States and then SADCC (Southern African Development Coordination Conference) has a mission to promote sustainable and equitable economic growth and socio-economic development through efficient production systems. It has its Headquarters in the Botswana Capital Gaborone.