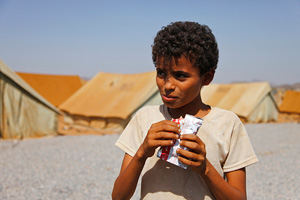 Aid workers hope "shocking" new malnutrition figures from a survey conducted in western Yemen will help highlight the serious humanitarian situation in the country and prompt donors to act immediately.
Until now, aid workers say some donors have been unconvinced of the extent of the problem because of a perceived lack of evidence.
"It's been a challenge," one Yemen-based aid worker told IRIN. "Every time we sit down with donors, they say 'Where are the figures? Where is the data?'"
Geert Cappelaere, head of the UN Children's Fund (UNICEF) in Yemen, said donors have asked him for more evidence that malnutrition was such a priority.
"That kind of question – each and every time – kills something in me. Why do you want children to die first before you're going to give any credibility to a disaster looming here in Yemen?"
Results
Yemen's Ministry of Public Health and Population, with the support of UNICEF, surveyed 3,104 households in Hudeidah Governorate in October and collected data on 4,668 children under five.
The survey found a global acute malnutrition (GAM) rate of 31.7 percent – meaning nearly one third of children surveyed suffered from either moderate or severe acute malnutrition – of which nearly 10 percent were severe cases. These figures are more than double the internationally recognized emergency threshold of 15 percent. The survey also found that nearly 60 percent of children were underweight and 54.5 percent stunted, meaning their height was too low for their age, a sign of longer-term malnutrition.
These results are consistent with recent surveys conducted in other parts of the country.
In the southern Abyan Governorate, a battleground in ongoing fighting between government troops and al-Qaeda affiliated militants, a UNICEF survey in September found a GAM rate of 18.6 percent, of which 3.9 percent were severe cases. In the northern Hajjah Governorate, a government survey in June found a GAM rate of 31.4 percent, of which 9.1 percent were severe cases. Nearly half of the children surveyed in Hajjah were underweight and 43.6 percent were stunted.
"Wherever we go, wherever we survey, wherever we assess, we come to the same conclusions," Cappelaere told IRIN. "The levels of acute malnutrition in Yemen are incredibly high."
Yemeni Minister of Health Ahmed Al-ansi says half a million children suffer from acute malnutrition across the country. Hundreds of thousands of farmers are at risk of losing their livelihoods because of floods and drought, he added. According to the NGO Oxfam, many Yemenis live off tea and bread.
The UN says some seven million people (a third of the population) are food insecure, meaning they go to bed hungry or do not know where their next meal is coming from. This number is expected to rise significantly when the World Food Programme carries out a new national Comprehensive Food Security Survey in January. Aid workers expect the humanitarian situation in Yemen to continue getting worse next year.
The mortality formula
While malnutrition rates in parts of Yemen are comparable to those in parts of Somalia, they have not yet resulted in the same mortality rates, only because – until recently – Yemen had a functioning, if imperfect, primary health care system, including vaccination.
But in the past 10 months, during which anti-government demonstrations led to a violent crackdown and a political crisis, some areas have seen up to 40 percent fewer children immunized, UNICEF's Cappelaere said.
Combine the high rates of malnutrition, the low levels of vaccination and sporadic outbreaks of diseases like measles, and "a disaster may be around the corner."
The Hudeidah survey found that three in every four children suffered from diarrhoea, acute respiratory infections or fever in the two weeks preceding the survey; and 2.5 percent of mothers reported symptoms of measles in their children in the past three months. The survey found measles vaccination coverage of 74 percent in Hudeidah, well below the 90 percent coverage rate needed to prevent an outbreak.
"Why is it that the international community gets mobilized primarily when it sees the dramatic outcome of a situation or a crisis that we could have seen coming for many, many years?" Cappelaere asked. "This is not a blaming and shaming [exercise], but this is a collective question we need to ask ourselves."
The UN has appealed for US$154 million for food and agricultural programmes and $70 million for nutritional programmes, the largest sectoral demands amid an overall appeal of $447 million for Yemen in 2012.
Government capacity
Government officials admit dealing with the dramatic levels of malnutrition will be a challenge for the interim Yemeni cabinet which emerged after a peace deal signed in late November pulled the country back from the brink of civil war.
The cash-strapped government is charged with organizing presidential elections by February 2012, while trying to maintain stability. Pro-democracy protesters, and an armed opposition, had been clashing with government forces on and off since February 2011. The peace deal has brought some calm to the capital Sana'a and the second city Taiz, but rebels, separatists and al-Qaeda affiliated-militants are still opposing the government in different parts of the country.
Majid Al Jonaid, deputy minister of health, said one of the government's priorities is to address issues affecting the daily life of Yemenis, including malnutrition. The government plans to open clinics and run education campaigns, as part of a multi-sectoral national government strategy on malnutrition approved by the cabinet last year, before the latest crisis.
But "it depends mainly on the availability of resources and the overall situation," he told IRIN. "We will start our work with the hampered resources that we have."
Still, Al Jonaid said he was concerned malnutrition may not get the attention it deserves amid competing government priorities and big constraints. For example, the Ministry of Health was virtually shut down for weeks because of insecurity in and around the building.
Cappelaere said it was unrealistic to expect the government to take over much of the international community's humanitarian work in the next year.
Long-term effects
The economic situation in the country has been set back 5-10 years by the events of this year and Yemen will continue having substantial humanitarian needs for 3-5 years, according to the UN humanitarian coordinator in Yemen, Jens Toyberg-Frandzen. Cappelare said the country will probably continue needing some form of assistance for two to three decades.
Addressing malnutrition is a complex task, as the problem relates to poverty, lack of education, bad sanitation, and cultural practices, like chewing khat and resisting exclusive breastfeeding. In Hudeidah, only 9 percent of infants under six months were exclusively fed breast milk.
The Ministry of Health report from the nutrition survey recommended establishing out-patient therapeutic programmes in community health facilities and considering "radical strategies" like blanket, rather than targeted, distribution of supplementary food.
Investments in lifesaving humanitarian assistance, as well as longer-term development work, are required immediately, Cappelaere said, to prevent both high mortality rates and longer-term effects of chronic malnutrition, like retardation in cognitive development, which will affect the country's ability to move forward.
"Yemen is entering a new phase in its history," said Pete Manfield, deputy head of the UN Office for the Coordination of Humanitarian Affairs (OCHA) in Yemen, "but it's critical that humanitarian needs are met in 2012, not only to prevent the loss of life, but also to support the stabilization of the country."
"We appeal not to let Yemen become another catastrophe," Toyberg-Frandzen added.
IRIN News
ha/cb/bp
Theme (s): Children, Early Warning, Food Security, Governance, Health & Nutrition,
[This report does not necessarily reflect the views of the United Nations]