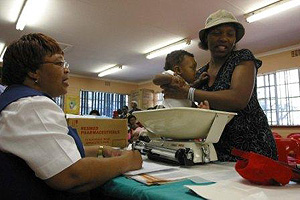 Mothers, babies and newly diagnosed HIV patients are receiving more of the services they need but progress comes at a cost, according to a new report that predicts a funding shortfall for HIV treatment in South Africa.
On 23 February, the Health Systems Trust released the latest versions of its annual District Health Barometer and South African Health Review.
Although in its sixth year of publication, this year's barometer is the first to include data on early infant HIV testing for babies born to HIV-positive mothers and shows that about half of all babies born to HIV-positive mothers are now being tested for the virus at six weeks of age, an important step to ensuring they access the early HIV treatment recommended for all children younger than one under national guidelines. In 2009, only about a quarter of such babies were being tested using the sensitive polymerase chain reaction – tests that confirm whether HIV-exposed infants are HIV-positive.
The report also found that almost all pregnant women are now tested for HIV, which has helped lower mother-to-child HIV transmission to below 4 percent in the country.
The latest barometer is also the first to include data on tuberculosis (TB) screening among newly diagnosed HIV patients. In 2008, only about a third of new HIV patients were screened for TB; in 2011 about 70 percent were checked.
People who have both HIV and carry latent TB are up to 30 times more likely to develop active TB as their HIV-negative peers and TB remains the leading cause of death in South Africa and among people living with HIV worldwide.
Funding shortage
The HST also launched the South African Health Review, an independent review of the public health sector funded by the South African government. While the report notes that HIV/AIDS spending has increased substantially since 2007, it predicts the country will need up to US$5.3 billion extra every year to sustain its HIV/AIDS response, particularly treatment.
The review notes that this year alone the government will spend about $3.1 million on HIV and AIDS; less than a fourth of this comes from donors such as the Global Fund to Fight AIDS, TB and Malaria or the US President's Emergency Plan for AIDS Relief (PEPFAR).
The South African government already shoulders about 80 percent of its HIV treatment costs domestically and authors of the review predict that treatment will be the main driver of the escalating costs of the country's HIV/AIDS response.
In late 2009, the World Health Organization revised its HIV treatment guidelines to recommend that people living with HIV start treatment sooner, at CD4 counts – a measure of the immune system's strength – of 350 or below. Since then, South Africa has gradually fallen into line, first extending earlier treatment to at-risk groups, such as pregnant women and TB patients in 2010 and finally to all patients in 2011. While activists bemoaned the wait, policy-makers argued they had to make sure the country, which shoulders about 80 percent of its treatment costs domestically, could afford it.
As of March 2011, about 1.5 million people were on ARVs in South Africa. The review expects that number to rise to about three million by 2015.
PlusNews
llg/kn/mw
Theme (s): Care/Treatment – PlusNews, Children, Health & Nutrition, HIV/AIDS (PlusNews),
[This report does not necessarily reflect the views of the United Nations]