YANGON — Myanmar's powerful military has taken control of the country in a coup and declared a state of emergency, following the detention of Aung San Suu Kyi and other senior government leaders in early morning raids on Monday.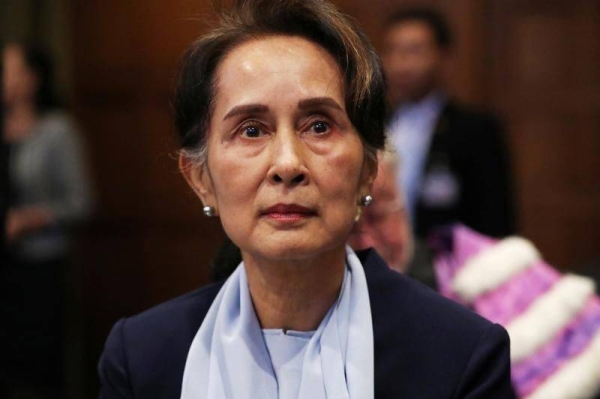 The country woke up to widespread internet and communications blackouts, closed banks, and soldiers in army fatigues patrolling the streets of Myanmar's largest city, Yangon. Residents turning on their television sets could only access the military-owned Myawaddy TV channel, with all other news channels seemingly blocked.

As news filtered through that the country's democratically-elected leaders had been detained in the capital — hours before the first session of the new parliament was set to open — a news anchor announced on the military-owned channel that power had been handed over to army chief Min Aung Hlaing.
In the address, the military confirmed it had detained the country's de facto civilian leader Suu Kyi, along with other high ranking National League for Democracy (NLD) leaders, in response to alleged voting irregularities in November's election.

Suu Kyi's party, the NLD claimed an overwhelming victory, taking 83 percent of the vote, which granted it another five years in government. The military-backed Union Solidarity and Development Party won 33 out of a possible 476 seats, far fewer than the party had expected.

The coup followed weeks of worsening political tensions in the country over the disputed election and rumors that the military could take over had been swirling for days.

A soldier stands guard on a blockaded road to Myanmar's parliament in Naypyidaw on Feb. 1, 2021, after the military detained the country's de facto leader Aung San Suu Kyi and the country's president in a coup.

Monday's events have been widely condemned internationally, with the United States calling on Myanmar's military leaders to "release all government officials and civil society leaders and respect the will of the people."

"The United States expresses grave concern and alarm regarding reports that the Burmese military has detained multiple civilian government leaders, including State Counsellor Aung San Suu Kyi, and civil society leaders," according to a statement from the US Secretary of State Antony Blinken. "The military must reverse these actions immediately."

Army chief Min Aung Hlaing, who is now running the country, has been under US sanctions since December 2019. He was designated for serious human rights abuses related to the atrocities committed against the Rohingya Muslim community.

On Monday, Min Aung Hlaing's office released a statement saying that elections will take place only after the election commission has been "re-constituted" and the voter lists have been investigated.

"A free and fair multiparty general election will be held and then, state responsibilities will be handed over to the winning party meeting norms and standards of democracy," the statement said.

Prominent Myanmar historian and author Thant Myint-U said on Twitter Monday that, "The doors just opened to a very different future."

"I have a sinking feeling that no one will really be able to control what comes next. And remember Myanmar's a country awash in weapons, with deep divisions across ethnic and religious lines, where millions can barely feed themselves."
— Courtesy CNN