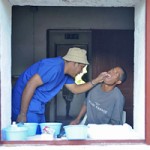 The Basic Health Centre or Centre de Santé de Base (CSB) II in Anjalajala, near Antsohihy, the capital of Madagascar's northern Sofia Region, is housed in a recently renovated building and its status as a CSB II promises the availability of a trained doctor. But the doctor left for Antananarivo, the capital, in 2002 and has not been replaced, and whenever the remaining nurse is absent, services stop.
A guard sweeping the courtyard explains that currently the health worker is away visiting his mother and will only return in a week.
The situation at this clinic is not unique in Madagascar, where an already weak healthcare system has been in a state of decline since 2009 when the international community branded Andry Rajoelina's ousting of President Marc Ravalomanana a coup, and donors halted all but emergency aid.
In the absence of donor support, the Malagasy government made dramatic cuts to its budget for social services. In 2010, expenditure on health care fell by 30 percent compared to the year before, while the health budget for 2012 is half what it was in 2011.
One of the consequences of these cuts has been the closing down of many community health centres. According to figures from the UN Children's Fund (UNICEF), 214 health centres had closed by January 2011, in most cases due to a lack of health workers.
In the provinces, health workers often do not receive their salaries, and many have migrated to the cities where they get better paying jobs in the private sector.
The community health centres were part of a national health programme started in the 1980s which dispatched health workers to remote areas of the country with the goal of achieving universal health care by the year 2000. By 2004, the Health Ministry listed almost 3,000 such centres, known as CSBs, on its web site.
These centres were supposed to be staffed by a qualified nurse and, in some cases, a midwife and all staff were to receive a higher level of training via the Health Ministry than in the past.
The goal of health for all was never met, but in the years before the crisis, there was progress. Following findings in 2006 that many of the CSBs were understaffed and insufficiently equipped, 197 of them were renovated and re-equipped.
According to the World Health Organization (WHO), average life expectancy went up, polio was on the verge of being eradicated, and infant mortality decreased from 98 deaths per 1,000 in 1993, to 58 in 2006.
Pre-2009 gains lost
However, even before the crisis, the health system only reached an estimated 60 to 70 percent of the population – those living in regions served by roads – while many people still had to travel 10km or more to get treatment. As health centres close down, people have to travel even further and many of the gains made before 2009 have been lost.
"We often hear that patients tried to see a doctor at a public health post first, but there was no one there," said hospital director and surgeon Adrien Ralimiarison of the Baptist Good Hope Hospital in Mandritsara, also in Sofia Region. "On the other hand, because of the crisis, people wait until they're really sick before they go to see a doctor."
According to Achu Lordfred, a technical adviser on reproductive health with the UN Population Fund (UNFPA), many health centres function poorly due to a combination of systemic issues, including lack of training. "Health workers do not have adequate training in community health, so they will just sit there and wait for patients to come to the health facilities," he said. "If the health centre has no supplies or medicine, and the only thing the health worker can do is refer patients to the hospital in town, people will stop visiting the CSB."
Footing the bill
Although treatment is free for the poor, reaching a distant hospital costs money and once a patient arrives, there are other costs. As hospitals struggle to function with insufficient funding, patients and their families must foot the bill for basics like bed sheets, bandages and food, and there is also a social expectation that the treating doctor be rewarded with a gift.
Despite its status as the main referral facility for a region of one million inhabitants, the hospital in Antsohihy lacks the most basic supplies, like food and mattresses for patients, and its maternity ward relies on supplies donated by UNFPA.
Director of the hospital Briand Zafinandriamanalina said the government had also recently stopped sending money for a social equity fund used to provide free health care to the poor. "We now have US$3,000 left [in the fund] for this year," he told IRIN. "Normally, this could last us for a few months when we count the usual amount of emergencies and the accidents on the road here, but in case of a big accident, the fund could be used up in days."
Zafinandriamanalina added that hospitals also lacked specialists, with many regional hospitals having only one surgeon to handle all operations. "Specialist doctors are in the capital, and they don't want to come to the provinces and regions to work," he said.
Lordfred of UNFPA noted that Madagascar's general practitioners were not trained to perform lifesaving procedures like Caesarean sections. "This makes them much less effective in the provinces," he said.
Health Ministry lacks funds
With no end to the political crisis and the lifting of sanctions in sight, international NGOs have taken on the task of keeping Madagascar's health system going, with mixed results. UNICEF, WHO and UNFPA are all involved in training health workers and supplying health centres with essential drugs so that they can stay open. According to the World Bank, external financing of the health sector went up from US$92 million to US$160 million between 2008 and 2010.
However, without a national policy to set priorities, coordinate efforts and drive initiatives, aid efforts have been fragmented and the health system has continued its decline. As a result of the sanctions, aid has had to go directly to individual health centres and hospitals or to local NGOs rather than to the Health Ministry.
UNFPA set out to recruit 50 midwives last year to send into the provinces, but ended up finding only 28, as trained midwives also prefer to work in the cities and the government agencies that used to regulate their training and postings no longer function. "There are many ways to encourage and retain doctors to work in remote areas," said Lordfred, "but it needs appropriate training and improved working conditions."
IRIN News
www.irinnews.org
ar/ks/cb
Theme (s): Aid Policy, Economy, Governance, Health & Nutrition,
[This report does not necessarily reflect the views of the United Nations]