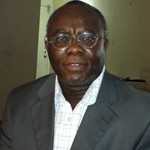 They were clearly and visibly far too ashamed to bury the late President John Evans Atta-Mills in his home village in the Ekumfi district of the Central Region, as Akan custom demands, but now the very people who did not see the late president's home-village and region as a fitting burial ground, or locale, including, surprisingly, the dead man's own twin brother, Dr. Cadman Kojo Mills, would have the people of the very region that they so flagrantly disdained and flatly rejected as a fitting burial ground to vote massively for the National Democratic Congress (NDC) in his honor and memory! (See "Honor Late Prez Mills by Voting for NDC – Cadman Mills" Modernghana.com 11/4/12). Talk of chutzpah!
Needless to say, as many of us patriotic Ghanaians and avid students of African cultures pointed out earlier on, burying the late President Mills in his home-village would have achieved two morally and economically significant and salutary things – one: it would have demonstrated great respect for the Fante-Akan culture from which the deceased premier hailed and emerged into global recognition and prominence. And this is why it is intolerably offensive and morally hollow and downright untenable for NDC hacks like Dr. Cadman Mills, Mrs. Ama Benyiwa Doe, the Central Regional Minister, and Mr. Ebo Barton Oduro, the Deputy Attorney-General and Deputy Minister of Justice, to be cynically calling for the people of the Central Region, particularly Fante-Akan residents, to vote to enable the foregoing NDC political vultures to continue to draw fat salaries from their sweat and blood.
Secondly: burying President Mills in his home-town and home-region, as has been the case with most post-colonial Ghanaian leaders, including President Kwame Nkrumah, originally, would have necessitated the considerable development of the Ekumfi district and, by extension, the Central Region as a fetching magnet of tourism. But that Dr. Cadman Mills would be campaigning for NDC parliamentary candidate for the Cape Coast South Constituency, Mr. Kweku Ricketts Hagan, who was himself shamelessly campaigning on the New Patriotic Party manifesto of making "education accessible and affordable" to the youths of the area, offers one more good reason to massively vote for the NPP-MP for Cape Coast South.
In other words, other than repulsively seeking to squeeze more political capital out of the yet-to-be-fully-explained death of President Atta-Mills, these NDC hacks have absolutely no visionary agenda to legitimately command the support of the electorate. Also, drawing Mrs. Effie Amissah-Arthur, the mother of Transitional Vice-President Kwesi Bekoe Amissah-Arthur, into the fray and onto an NDC public podium was rather morally tacky, tawdry and unforgivably disrespectful, being that until her son's recent all-too-flagrantly-expedient selection as President Mahama's running-mate for Election 2012, the seventy- or eighty-something-year-old Mrs. Effie Amissah-Arthur was a virtual unknown in Ghanaian political circles. Indeed, such electioneering stunt reeks of abject extortion. It also vividly underscores the moral bankruptcy of the NDC leadership and all the more reason why the Mahama-Arthur posse ought to be given a massive heave-ho come December 7, 2012.
It was also rather risible to hear Mr. Kweku Ricketts Hagan, the NDC's Cape Coast South parliamentary candidate observe, rather pathetically, that during its 21-plus years of absolute domination of Ghanaian politics, the Provisional National Democratic Congress (P/NDC) has yet to ensure that a reasonably remarkable percentage of highly qualified youths in the region will be able to attend any of the "big secondary schools" littered all over the Saltpond-Cape Coast-Elmina municipality. Indeed, if the foregoing is not a caustic and epic indictment of the charlatanic national educational policy agenda of the Mills-Mahma-Arthur government, then, dear reader, I stand poised for correction.
Kwame Okoampa-Ahoofe, Jr., Ph.D., is Associate Professor of English, Journalism and Creative Writing at Nassau Community College of the State University of New York, Garden City. He is Director of The Sintim-Aboagye Center for Politics and Culture and author of "Ghanaian Politics Today" (Lulu.com, 2008). E-mail:okoampaahoofe@optimum.net
The opinions expressed are the author's and do not necessarily reflect the views or have the endorsement of the Editorial Board of www.africanewsanalysis.com and www.africa-forum.net