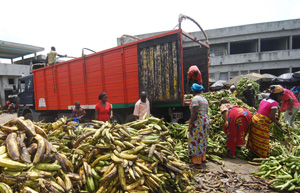 Vegetable seller Caroline Tibet recently lost about US$420 in aubergines, cassava and okra when gunfire broke out near the truck just loaded up with her goods near the town of Duékoué in western Côte d'Ivoire.
"My investment went up in smoke," she told IRIN. That has not, however, stopped Tibet and hundreds of other women in the commercial capital Abidjan from braving gunfire, curfews and ubiquitous and often dangerous roadblocks to keep the city's central food market stocked.
"The risks are enormous," she told IRIN at the Marché Gouro in Adjamé District – where people from all over Abidjan come for fruit and vegetables daily. "But if we gave up, there would be nothing in the markets and the people would feel the crisis even more sharply."
The vendors travel regularly to plantations in the west. These days their schedules are largely shaped by curfews. "Once night falls, all of us – sellers, drivers – sleep under the trucks," Tibet said. "At sunrise, once roads are open again, we set off for Abidjan." In normal times, women said, even if people finished loading up a truck at 1am they would drive back.
These constraints take their toll on family life. "It's a huge sacrifice we make," Chantale Abou, a mother of three, said. "We barely see our children."
But the women remain positive. Plantain seller Bernadette Trazié Lou told IRIN: "The crisis has perhaps diminished economic activity but it hasn't undermined our morale to make food available in the markets and avoid famine."
"The most important thing is a return to peace," said Ta Lou Irié, president of the Marché Gouro administrative council. "It's all up to the politicians; they owe us peace so the economy can bounce back."
Price increases
The country's instability is evident in the markets, as food is not as abundant as usual, said one man in Abidjan who requested anonymity. "One sees less of certain items, but all the same food is available in the markets. Prices are higher, that's for sure."
Women in the Adjamé market said their costs had soared, so prices would inevitably follow suit.
In the market, shoppers are constantly calculating what they can afford for the family food basket that day as they learn the new price of this or that item.
"The higher prices are not down to the vendors," Lou Irié told IRIN. "We must pay for the tractors and vehicles to recover and transport our plantains, yams, aubergines, tomatoes, peppers." Transport costs have skyrocketed largely due to an explosion of roadblocks. Despite paying the equivalent of $160 to be in a "secured" convoy, women lose a good deal of cash to extortion on the roads.
"Moving goods from the plantation used to cost me 20,000 CFA francs [$42] a load; now it's 35,000 CFA francs," said Trazié Lou. She said 1,000 CFA francs used to buy five bunches of bananas, now just three.
Vendors in other parts of Abidjan often have to go far out of their way to bring food from Adjamé, said a resident of the largely pro-Alassane Ouattara district of Anyama. "[Laurent] Gbagbo militants usually block women as they are leaving Adjamé to bring food to Anyama, so the women have to take a huge detour."
Marché Gouro (Gouro is an ethnic group in the centre-west) is the epicentre of the Ivoirian Federation of Food Producer Cooperatives, which has some 200,000 members – men and women.
Members said consumers might see a slight drop in prices soon as the federation had just obtained lorries of its own and so would be able to cut out truck rental costs.
IRIN News
aa/np/mw
[This report does not necessarily reflect the views of the United Nations]