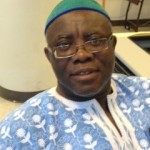 Back in August, when Mr. Steve Mallory (real Ghanaian birth name Kwadwo Osei-Poku) published his so-called lowdown on the purported state of the health of the three-time Presidential Candidate of the main opposition New Patriotic Party (NPP), Nana Addo Dankwa Akufo-Addo, I categorically noted that the editor-publisher of Africawatch was a cud-chewing "ruminant journalist" who was simply regurgitating old and jaded tidbits of information that he had acquired from the man whose American publicist he had briefly served. Well, true to my prediction, the latest follow-up to his August guff, pathetically paraded as foolproof insider stuff contains absolutely nothing new. At best, it can be aptly described as prime tripe, in African-American soul-food parlance (See "Full Text: Africawatch Responds to Nana Akufo-Addo" Ghanaweb.com 10/14/16).
About the only thing new that Mr. Mallory's latest parcel of turd provides us is not even about the indomitable protagonist whose cardboard antagonist he has so cheaply and tawdrily elected to play. It is about what the Africawatch editor-publisher terms as the perennial opportunism and shenanigans of Mr. Freddie Blay, the Acting Chairman of the New Patriotic Party. This picture, or rather caricature of Mr. Blay more strikingly answers to the character of the narrator himself. Here, the estranged Akufo-Addo protégé cleverly attempts to fault Mr. Blay for his former mentor and protector's widely perceived abortive shots at the presidency and risibly suggests that, somehow, Nana Akufo-Addo is so irredeemably star-crossed that about the only way to clinch victory in any presidential election contest against the National Democratic Congress (NDC) will be for the Akufo-Addo campaign operatives to devise a means of getting President John Dramani Mahama, who appears to have jinxed the former Justice Minister's chances at the presidency, way out of the way. Mr. Mallory claims that it is Mr. Blay who has been obstructing this gambit.
You see, what makes this advisory comical is that even as I have had many occasions to point out, even NDC stalwarts like General-Secretary Johnson Asiedu-Nketia do not believe that then-Interim President Mahama won the 2012 presidential election fairly and squarely. As I vividly recall, the maiden statement made by the wiry man popularly known as General Mosquito, in a radio talking-heads show, in the wake of the 2012 presidential election, was to mordantly carp Nana Akufo-Addo for recruiting polling station agents and monitors and observers who had a diametrically opposite agenda to that of the former Foreign Minister. In sum. Mr. Asiedu-Nketia's view of the outcome of Election 2012 was that Nana Akufo-Addo lost his second shot at the presidency essentially because he had not been vigilant enough. Put more bluntly, General Mosquito's conclusion was that Mr. Mahama had simply played it foul, pun definitely intended.
Now, let's rewind the mnemonic – or memory – spool to July 24, 2012 and Mr. Mahama's "God at His Sagacious Best" speech, vis-à-vis the abrupt and mysterious passing of President John Evans Atta-Mills, and it at once becomes crystal clear precisely what kind of transposed political elimination racket Mr. Mallory is talking about here. But then, who told Kwadwo 'Sei-'Poku that what is good for Gonja Boy may not be equally good for the Mamprugu Wit? In other words, what clearly appears to have been criminal foul play has, in the colorful imagination of Mr. Mallory, been at once suavely, savagely and deftly afforded mystical resplendence in much the same way as President Mills' clearly stage-managed assassination has been afforded a self-congratulatory coating of oneiric splendor by Mr. Koku Anyidoho. This may be where the prismatic subliminal faculty of surrealism was originally concocted.
The rest of the Mallory narrative assumes a grotesquely farcical attempt by the imperious narrator to pontifically dictate for "a prostate cancer-stricken" Akufo-Addo and his "deathly ill" brother, Edward, what they ought to be worrying themselves silly about, even as the predestined nation-wrecker, in the jaundiced imagination of Mr. Mallory, assumes his divinely ordained diadem with grace. What we clearly see here is a man who never left the seamy practice of muckraking journalism, as he falsely claims, desperately attempting to salvage whatever may be left of his badly battered credibility in the eyes and minds of those who care. Kwadwo 'Sei-'Poku claims he never took a dime from Nana Akufo-Addo, but I never saw the fleeing town's fool seek refuge in his backyard; he also claims it has always been the out-of-luck grandson of Ofori-Panyin accepting "sala" from the big man of Orange, New Jersey. And yet, it is quite evident that he has been raking in a bumper harvest from concocting all these Ananse Stories which he confesses to have been selling by the thousands in Accra and Kumasi. Payback time, Steve, or isn't it what you are presently doing?
Well, for the rest of our readers, about all I can say is that if you have more important duties and chores to attend to, presently, by all means, please don't waste time poring over Mr. Mallory's very poorly composed and edited glob of scatology. And, by all means, have a pleasant day.
*Visit my blog at: kwameokoampaahoofe.wordpress.com  Ghanaffairs
The opinions expressed are the author's and do not necessarily reflect the views or have the endorsement of the Editorial Board of www.africanewsanalysis.com, www.africa-forum.net and www.wapsfeatures.wordpress.com