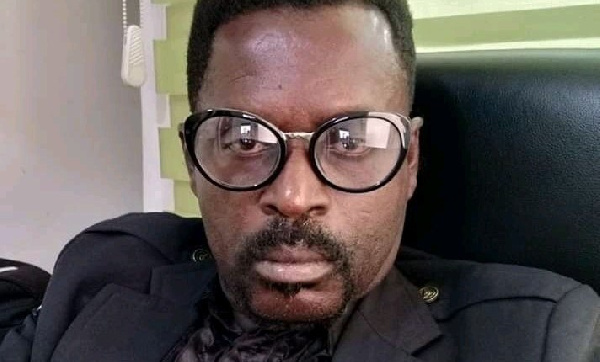 This man is calling on the President of the Republic of Ghana, Nana Addo Dankwa Akufo-Addo, to issue a decree allowing the police to shoot and kill members of the opposition New Democratic Congress (NDC) who would be caught snatching ballot boxes at the 2020 elections in Ghana.
This is what this weird-thinking member of the NPP's communications team in the Ashanti Region said:
"The President should decree so that the so-called ballot box snatchers within the NDC planning to foment trouble, if they venture into a polling station to engage in such an act we will shoot and kill them in 2020".
Judging by his comments, Boateng Duncan, who is also known as BOMBAY, clearly does not know the history and traditions of the very party on which behalf he claims to be communicating.
The NPP comes from the Danquah, Busia and Dombo political traditions. These political stalwarts and believers in the rule of law, are staunch advocates of the independence of the judiciary. They believe that, culprits, no matter the seriousness of their crime should be allowed to go through due process of the law.
Dr J.B. Danquah will NEVER advocate the policy of shoot to kill. Professor Kofi Abrefa Busia will NEVER advocate the policy of shoot to kill and likewise, Mr S.D: Dombo will NEVER advocate the policy of shoot to kill. And yet, here we, a descendant of the tradition these three Ghanaian political stalwarts of blessed memory, is calling on the current flagbearer of the Danquah, Busia and Dombo political persuasion to decree such a backward policy.
The question is, does the said Boateng Duncan really know the value, the tradition and the history of the NPP? Is he prepared to pull the trigger to kill a fellow Ghanaian just because they disagree politically? Boateng Duncan, since when is politics and elections in Ghana, a matter of life and death?
Boateng Duncan, as an aspiring politician, would you issue such a decree to shoot and kill when one day you assume the leadership of the country? Are you really prepared to shoot to kill your fellow Ghanaians, the very people you are aspiring to be their leader?
Clearly, Boateng Duncan's suggestion to President Nana Addo Dankwa Akufo-Addo, who happens to be a Human Rights lawyer, is an insult to the memories of Dr J.B. Danquah, Prof. Kofi Abrefa Busia and Mr S.D. Dombo. We are very confident that the President, Nana Addo Dankwa Akufo-Addo, will dismiss such foolish suggestions with the contempt that it deserves.
The leadership of the NPP should organise political history education programmes for people like Boateng Duncan who happen to occupy sensitive positions within the party.

Print Friendly