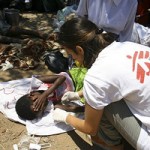 Barbra Phiri, 20, a single mother living on a farm settlement in rural Mhondoro, about 45km southwest of the Zimbabwean capital Harare, does not think twice about letting her two-year-old twins splash about in a pool of greenish water close to her hut.
Since the rains began several weeks ago, dirty water has been accumulating on the settlement, now home to hundreds of former farmworkers and others displaced during Operation Murambatsvina in 2005 which razed illegal structures and left thousands without shelter.
Phiri remembers the 2008-2009 outbreak of cholera which killed more than 4,000 people and infected nearly 100,000 others, but sees it as a thing of the past and is still ignorant of how waterborne diseases are spread.
Her twins have a skin infection and frequent bouts of diarrhoea but, like most residents, she attributes such ailments to witchcraft, consulting a traditional healer for a cure.
Phiri told IRIN her first child died two years ago from diarrhoea. "We don't use dirty water for drinking or cooking. We get clean water from the dam or the wells, so how can our children die from waterborne diseases?" she asked.
A few metres from Phiri's hut is an overflowing pit latrine. Many inhabitants have resorted to relieving themselves in the open since most of their pit latrines are overflowing and unusable.
The 2009 Multiple Indicator Monitoring Survey (MIMS), compiled by the government and UN Children's Fund (UNICEF), listed diarrhoea as one of the major causes of infant mortality resulting in around 4, 000 deaths in Zimbabwe annually.
The MIMS survey showed a 20 percent increase in under-five mortality since 1990.
With the advent of the rainy season and poor sanitary and hygienic facilities, people living in rural and peri-urban settlements like Phiri's are vulnerable to waterborne diseases.
The survey said: "Recent assessments show a significant decline in rural sanitation sector performance," adding: "The inability of vulnerable populations to access safe water and basic sanitation… has resulted in frequent diarrhoeal and cholera outbreaks."
The Consolidated Appeals Process (CAP) for Zimbabwe, launched in early December 2011, said "a third of rural Zimbabweans still drink from unprotected water sources and are thus exposed to waterborne diseases," and noted reports of cholera cases in rural Chipinge, in the eastern province of Manicaland, and Chiredzi in the southeast of the country.
More people seek treatment
A senior nurse at a clinic in rural Seke District, about 50km south of Harare, who preferred anonymity, told IRIN the number of people seeking treatment for diarrhoea and dysentery had increased since the onset of the rains.
"Typical of this time of the year when the rains fall, we treat a high number of people suffering from waterborne diseases… We have not received any cases of cholera but there is need to be on the alert all the time, because the surrounding villages are characterized by poor hygiene and sanitation. Many villagers tend to relieve themselves in the open because they cannot rehabilitate the Blair pit toilets that were built long ago," she said.
Blair pit toilets were constructed in large numbers to improve rural sanitation in the 1980s. A fine wire mesh allowed gases produced by decomposition to escape, but prevented flies around the faecal matter from exiting the septic tank and so prevented the spread of diseases.
According a 2011 report by the UN Children's Fund (UNICEF) and the government entitled A Situational Analysis on the Status of Women's and Children's Rights in Zimbabwe, 2005-2010 42 percent of people in rural communities practised open defecation, while cholera, which used to see significant outbreaks every 10 years or so in the 1980s and 1990s, has now become an annual event.
Poor household income, the senior nurse said, prevented some villagers from seeking treatment, "meaning that the number of people suffering from waterborne diseases could be higher as some of the cases go unreported [as people cannot afford to travel to clinics]."
David Shoniwa, 65, from Dema village in Seke District, said people in his community tended to relieve themselves along river beds during the dry season.
"The boreholes that were drilled in the 1980s have broken down and only a few that were sunk in recent years still function while, due to poor rains, it is difficult to sink new wells. When the rains fall, people turn to the rivers for water to drink and use for cooking, thereby exposing themselves to the diseases carried by the human waste," Shoniwa told IRIN.
IRIN News
fm/go/cb
Theme (s): Children, Governance, Water & Sanitation,
[This report does not necessarily reflect the views of the United Nations]