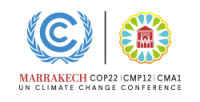 Two double-decker buses painted with COP22 colours have been touring Marrakech where they have been used by environment protection associations to raise awareness about climate change.
The buses feature audio-visual equipment and photos on climate change issues. On board, locals and visitors of the Ochre City can also attend briefings on environmental themes presented by volunteers from 10:00 to 21:00.
"Our teams are tasked with informing locals and visitors on COP22 events, as well as raising awareness about the need to act now against climate change," said Faris Atika, a young volunteer in charge of informing and receiving visitors on board the bus.
Atika, a geopolitical and international relations MA student, adds that the bus idea has been commended by visitors of different nationalities who showed eagerness to learn more about environmental issues.
The coordinator of the two buses, Ahmed ElKanziti, said that the two double-deckers are also meant to highlight the efforts undertaken by Morocco to protect the environment and curb greenhouse gas emissions. In this regard, he invited Moroccans and Marrakchis in particular to come to see the buses which will be showcased in Jemaa El Fna square along with other stops.