Die Jury zeichnet Dr.-Ing. Max Gath und Dr.-Ing. Zäzilia Seibold
für ihre Arbeiten aus
Berlin. Zum 25. Mal wird in diesem Jahr der Wissenschaftspreis Logistik der BVL verliehen – und erstmals gibt es zwei Preisträger, die die Jury mit ihren Arbeiten so überzeugten, dass diese den Preis erstmals teilte.
Ausgezeichnet werden Dr.-Ing. Max Gath für seine Dissertation "Optimizing Transport Logistics Processes with Multiagent Planning and Control" und Dr.-Ing. Zäzilia Seibold für ihre Dissertation "Logical Time for Decentralized Control of Material Handling Systems". Die Arbeit von Gath wurde von Prof. Dr. Otthein Herzog, Universität Bremen, Fachbereich 3, Mathematik und Informatik, betreut, diejenigen von Seibold von Prof. Kai Furmans, Institut für Fördertechnik und Logistiksysteme am Karlsruher Institut für Technologie.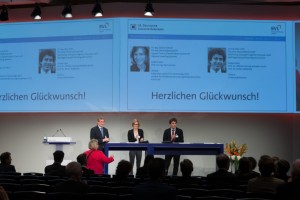 Die Entscheidung fiel in der Endrunde des zweistufigen Wettbewerbs, dem öffentlichen Vortrag der Kandidaten vor der Jury und Kongressteilnehmern beim 33. Deutschen Logistik-Kongress in Berlin. "Die beiden Arbeiten sind sehr unterschiedlich – und jede auf ihre Weise ist herausragend. Die Jury konnte kein Kriterium finden, nach dem eine der beiden auf den alleinigen ersten Platz gesetzt werden konnte. So haben wir uns nach intensiver Diskussion dazu entschieden, den Preis erstmals in seiner Geschichte zu teilen", so der Vorsitzende der Jury, Prof. Wolfgang Kersten.
Der Wissenschaftspreis Logistik ist mit € 10.000, – für die Preisträger und € 10.000, – für die betreuenden Institute dotiert und wird 2016 wieder von der BASF gesponsert. Das Geld wird entsprechend der Entscheidung der Jury in diesem Jahr geteilt. Der Preis wird von der BVL jedes Jahr ausgeschrieben. Als Bewerber zugelassen sind Wissenschaftler aller Sparten der Logistik mit ihren Dissertations- bzw. Habilitationsschriften, Projektstudien oder Monographien, die einen engen Bezug zu praxisnahen logistischen Fragestellungen aufweisen. Entscheidend für die Wertung sind der Praxisbezug sowie der Neuheitscharakter der Arbeiten.