Film Review
By Eric Singh, ANA Snr. Contributing Editor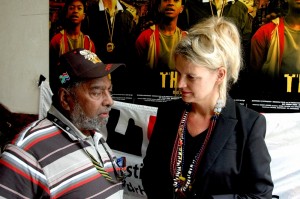 Themba – A Boy Called Hope, is one of, if not, the most powerful socio-political film coming out of South Africa. The novel by Lutz van Dijk, the German/Netherlands writer, is packed with action. It deals with politics, grinding poverty, love, squalor, hate, and for good measure soccer, although the overriding factor is AIDS.
All these components are beautifully handled by South African-born Film Producer/Director Stefanie Sycholt and moulded into a great epic. She certainly knows exactly when salt is needed in the soup, and how much. Not a pinch too much or too less.
Therefore, it is not surprising that this film has received bouquets of praise and prizes from numerous circles. Even former Anglican Archbishop of Cape Town, Desmond Tutu, could not hold back his admiration when he said: "The movie Themba can play an important role here. I wish the film project – that will be realised in cooperation with the local people in the Eastern Cape and the township of Masiphumelele near Cape Town all possible success. In my opinion, this film deserves two or three Oscars". The film has already won a number of prizes and hopefully that process will continue.
I will most certainly not cross swords with the Arch. I concur entirely after seeing the film here in Berlin last Sunday. I am not a regular cinemagoer. But the publicity surrounding this film made it left me with no other alternative but to see movie. I am glad I did because IT IS A MUST SEE film.
The film is about Themba aged 11, who lives with his mother Mandisa and his sister Nomtha in dire poverty in a village near Lusikisiki in what was the former Transkei. His father, a migratory worker in the mines of Johannesburg, suddenly stopped sending money for the upkeep of his family and was not heard of anymore. Mandisa was forced to work on a tea plantation under slave conditions and poorly paid.
Themba's passion was football and together with his pal Sipho, used every spare minute to emulate his heroes – international stars Zidane, Ronaldo, or his South African idol Andile Khumalo. Together with his friends, Themba founded the "Lion Strikers". This barefooted team reached the semi-finals of a youth tournament in the area. Among the spectators was the Head of the "All Star Academy" in Cape Town – John Jacobs (Jens Lehmann – former German national goalkeeper), and Andile Khumalo. Although the Lion Strikers lost in the finals, John Jacobs was simply flabbergasted by their performance that he promised to donate the teams football boots and gave Themba his visiting card.
Mandisa lost her job and was forced to make the journey to Cape Town to work as a domestic maid so as to support her family. She left her family in charge of her boyfriend, the unemployed alcoholic Luthando. Luthando turns out to a wild beast and attempts to rape Nomtha which Themba prevented and was himself raped in the process.
There was no other alternative left but to go in search of the mother in Cape Town who had stopped communication with her family. After a long search, she was found in one of the poverty-ridden shantytowns living in squalor. She was on her death bed suffering from AIDS with which Luthambo infected her.
Little Themba pushed heaven and earth to earn money to help his mother who finally landed in a hospital and received the treatment that was so badly needed. Themba managed to do this by taking on all sorts of jobs which were for grown ups only. He was desperate. He needed the money and in the process remembered the card John Jacobs had given him. At the Academy Jacobs remembered the young man and he was hired without hesitation and remunerated very handsomely. Thereafter there was no looking back on Themba's football career.
Speaking to the press after an important match, he made a startling revelation. Themba confessed to being HIV-positive and refused to be ashamed of it. That was a brave and noble move with a clear message that he wants to go on living and continuing to play soccer for the national team.
AIDS is a killer. But an even bigger killer is the secrecy and the stigma attached to it. The result is that thousands of people lost their lives earlier than they did. Society has not been taught NOT to look down on people infected with this hideous disease. HIV victims are people who need help and solidarity and not slurs and abuse. They are not outcasts. This message is loud and clear in the film.
That is why institutions like the SPARROW RAINBOW VILLAGE in Johannesburg should receive all the support for the wonderful work they are doing to deal with precisely the problem raised in the film.
'Sparrow Ministries is an inter-denominational Ministry of Help, not associated with any church, caring for Destitute Terminally ill adults and children with HIV/AIDS. We primarily function as an In-Patient Hospice facility offering comprehensive medical, nursing, psychological, social, spiritual, educational and occupational care, through a multi-disciplinary team.
Our hospice called SPARROW'S NEST was founded on 14 February 1992 by Rev Corine McClintock. Since opening, the reality of AIDS has been staring us in the face daily. From the hopeless, helpless individuals who stand outside our doors in the morning to the children with their brave smiles – we seemed to be surrounded by the biggest tragedy in human existence.
Regardless of this reality, we refuse to be stunned into passivity by this silent killer. Our motto is and has always been GET UP AND LIVE. Over the past decade we have said farewell to over 2 000 individuals – but – with dignity and peace. As the pressure of beds intensify daily, we have "enlarged our tent" and opened Sparrow Rainbow Village – The First AIDS Village in the world on 14 February 2002. Our new Village project enables us to care for 400 individuals including 200 children.'
Obviously such projects don't live on air and sunshine, they  need assistance and it is hoped that the film Themba – a Boy called Hope will have huge audiences wherever it is screened and that it will play a pivotal role in educating people about this killing disease.