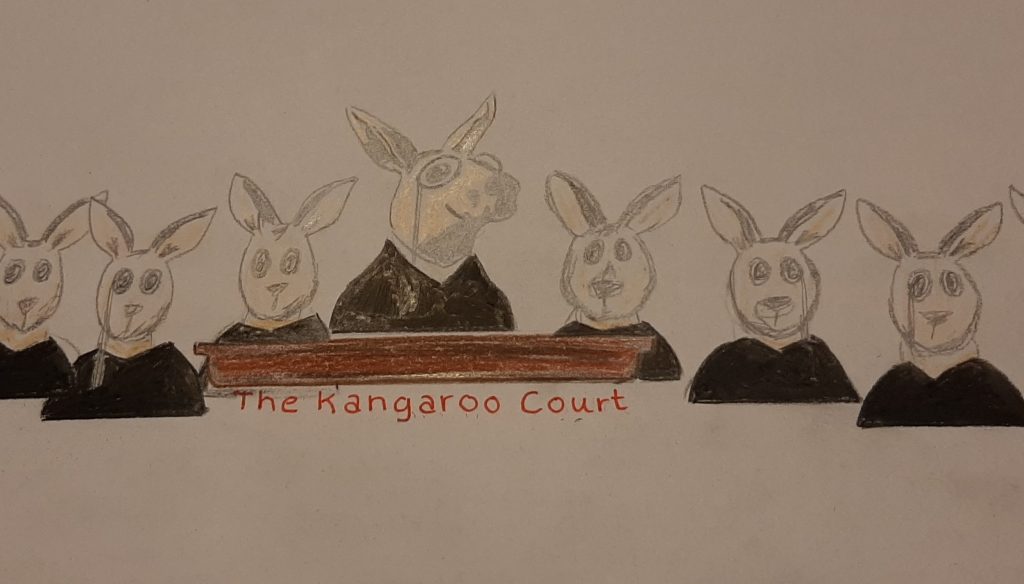 The Court will resume.
This court is a symbol of nation's judicial power. It is supposed to be the citadel of justice, fairness and impartiality.
Alas, in this case, the Court has already decided and it will be unanimous.
The Justices have decided to take a day off from the Bench to create the impression that they are now going to deliberate on the arguments put forward by counsels for the parties before the court.
In actual fact, the decision has been written already. After consultation with the Supreme Commander who is watching proceedings from Bibilee Cottage.
The following Justices will take their seat: Chief Kangaroo Justice Lawsi Binin-Tabuah, Kangaroo Justice Way Taddau, Kangaroo Justice Yamuel Garul-Tau, Kangaroo Justice Meme Imidarscher, Kangaroo Justice Processor Processor Bii Shiea Dodey (otherwise known as Shea Butter), Kangaroo Justice Zerprude Porlormoo, Kangaroo Justice Lariara Yoyosu, Kangaroo Justice Udama Banlo and Kangaroo Justice Kattiehar Wenhas-Sunbo.
After consultation with Bibilee Cottage, the Justices will come back today with a unanimous decision not to allow Neaj Samen into the witness box.
This should not surprise anybody. In this court, the thief reigns supreme and the thief is protected by the Justices who are all trying to out perform each other to catch the eye of the Supreme Commander.
In this Court, rules of court are not pivotal to civil procedure. Justices sitting in this Court have elected that all cases before them involving the Supreme Commander shall be pre-judged.
So, the Justices of this Kangaroo Court has decided that the thief that was caught red-handed subverting the will of the people should not be cross-examined.
It is not that citizens of this country believe in the justice system in the country. The issue is, the people have stopped believing in the fairness of these Justices.