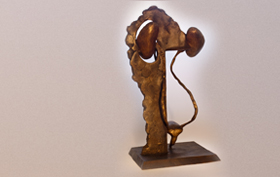 Professors Urs Studer (Switzerland), Alain Le Duc (France) and Christian G.Chaussy (Germany) received today the most distinguished awards granted by the European Association of Urology (EAU) during the opening ceremony of the five-day 26th Annual EAU Congress, the biggest urological conference in Europe.
Studer, former head of the urology department at Berne's University Hospital, was granted the EAU Willy Gregoir Medal 2011 in recognition of his achievements and valuable contribution to European urology. The honour is named after EAU pioneer Willy Gregoir and is the EAU`s most prestigious honour annually conferred to a senior urologist. From 1994 to 2010, Studer was professor and chairman of the Urology Department at Bern University Hospital in Switzerland, where he is still active. Since 2010 he serves also as the Yeoh Ghim Seng Visiting Professor at the University of Singapore.
Studer has served as co-editor for several journals including British Journal of Urology, European Urology, Current Opinion in Urology and Urologic Oncology. He also authored or co-authored nearly 150 papers, 100 book chapters or review article.
Le Duc was granted the EAU Frans Debruyne Lifetime Achievement Award 2011, an honour named after Prof. Frans Debruyne who, as former EAU Secretary General, has reinvigorated the EAU during his term. Le Duc, urology department head at Hôpital Saint-Louis in Paris, was cited for his important contributions to the development and activities of the EAU.
Munich-based Prof. Christian Chaussy, head of the urology department at the Klinikum Harlaching in Munich, is honoured as the first recipient of the EAU Innovators in Urology Award for his clinical contributions that have had a major impact in the treatment and/or diagnosis of a urological disease. Chaussy is known as one of the pioneers in Extracorporeal Shock Wave Lithotripsy (ESWL).
Also honoured are Dr. Steven Joniau (Belgium) who received this year's Crystal Matula Award, given to an outstanding urologist under 40 years of age, and Dr. Morgan Rouprêt, recipient of the EAU Hans Marberger Award for publishing the best European paper on endoscopy in 2010. Joniau, urologist at the University Hospital in Leuven, is a member of the EAU's Guidelines working group on prostate cancer.
Rouprêt serves at the L`Institut Mutualiste Montsouris' Department of Urology in Paris and is a member of the EAU Guidelines working group on non-muscle invasive bladder cancer. His paper, titled "Laparoscopic Approach for Artificial Urinary Sphincter Implantation in Women with Intrinsic Sphincter Deficiency Incontinence: A Single-Centre Preliminary Experience," was published in European Urology last year.
Also commended and granted EAU Honorary Memberships were Ziya Kirkali (USA), Yan-Qun Na (China), P.F. Schellhammer (USA), Hans Goran Tiselius, (Sweden), Peter Whelan (UK) and Humberto Villavicencio (Spain)
By Joel Vega