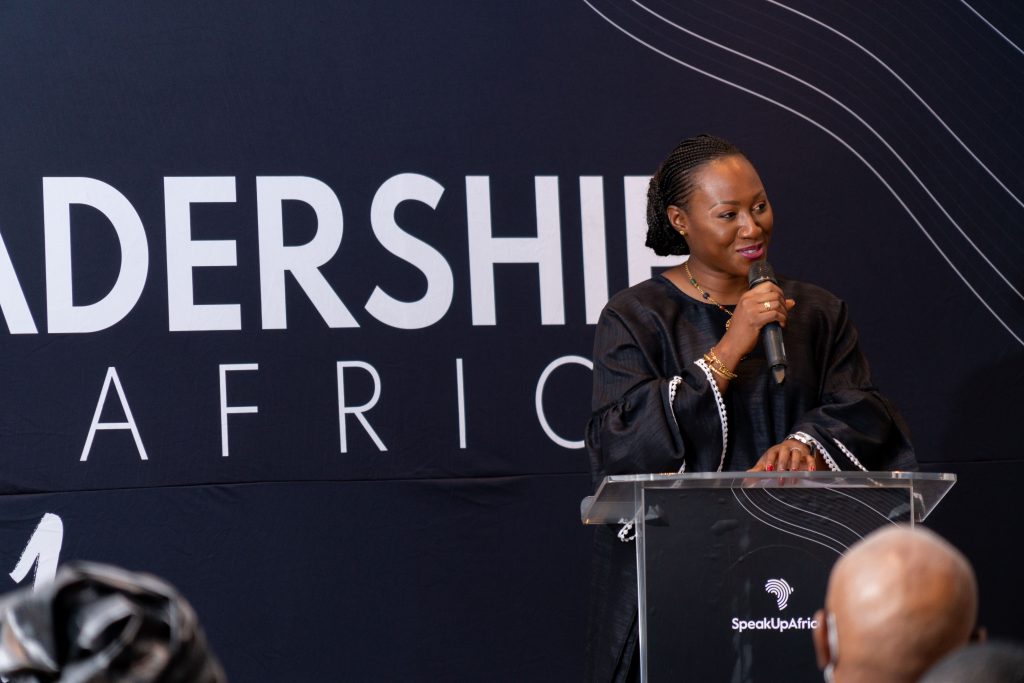 Senegalese advocacy tank celebrates remarkable individuals to mark 10 years of creating impact on the African continent
Dakar, 28 October 2021 – Today, leading figures in sustainable development have been recognized for outstanding initiatives to improve public health across Africa.
Recipients of the 2021 Leadership Award, including M. Serigne Mbaye Thiam, Minister of Water and Sanitation of Senegal, Professor Samba Sow, Director of the Centre of Vaccine Development in Mali and Sarah Diouf, Founder and Creative Director of Senegalese Fashion label Tongoro, are commended for achievements including improving access to sanitation and championing African-led research and development and prevention during COVID-19.
Initiated by the Senegalese non-profit advocacy tank Speak Up Africa, the 2021 Leadership Award honors those who have raised awareness of the continent's most pressing public health issues, from immunization to malaria, neglected tropical diseases (NTDs) and gender equality.
Serigne Mbaye Thiam, Minister of Water and Sanitation Senegal said: "Improving sanitation in Africa is one of our continent's greatest challenges. It is a wonderful honor to receive Speak Up Africa's Leadership Award this year, and I look forward to continuing to work with all the key stakeholders in the sector. Together, we can achieve access to sanitation for all by 2030."
Winners of this year's award also include Dr. Odry Agbessi, President of Via Me in Bénin and Burkinabe journalist Harouna Drabo.
"Whether it has been battling COVID-19, or championing for greater gender equality, it has been a pleasure to collaborate with Speak Up Africa and use my platform for good. Fashion has the power to bring people together, and I am grateful to have been recognized by Speak Up Africa for my contribution this year," said Sarah Diouf, Founder and Creative Director of Senegalese fashion label Tongoro.
The 2021 Leadership Award also coincides with Speak Up Africa's 10th anniversary, celebrating a decade of driving change and improving lives on the continent. The past 10 years has seen this female-led organisation work to create and implement effective, sustainable solutions to the most recurrent problems facing Africa.
Yacine Djibo, Executive Director of Speak Up Africa comments: "For 10 years, Speak Up Africa has been working with incredible individuals and organisations across the continent on policy change, movement building and community engagement. It's a great joy for me to recognize these exceptional people with our 2021 Leadership Award."
From launching the now Pan-African Zero Malaria Starts with Me movement in 2014, to spearheading the No to NTDs movement and mobilizing over 600 people including parliamentarians and community leaders, Speak Up Africa have made a demonstrable impact on sustainable development across the continent.
"Speak Up Africa is a shining example of African hope and success, and I am proud to lend my voice in support of their important mission." says Khalilou Fadiga, Itinerant Ambassador to the Republic of Senegal and Former International player of the national Team.
For 10 years Speak Up Africa has been working to reform public health to improve the lives of millions across Africa, whilst amplifying African voices, leading social action, bolstering inclusive, gender sensitive policies and improving governance at both national, regional and global levels.
About the recipients of the 2021 Leadership Awards
Dr. Odry Agbessi, President of Via Me in Bénin
Dr Odry Agbessy has been a long-standing champion of health and has been awarded this year for her work to mobilise young people and civil society through her dedicated association Via Me in Benin. In her capacity as President, Dr Agbessy supported the March to Kigali campaign in her home country by encouraging Beninese youth and civil society to join the fight against NTDs and malaria.
Sarah Diouf, Founder and Creative Director of Senegalese fashion label Tongoro
Women are disproportionately impacted from public health issues such as malaria and sanitation, and at the current pace, gender gaps in Sub-Saharan Africa will potentially take 121.7 years to close. As one of the continent's creative female leaders, Sarah Diouf, creative director of Senegalese fashion house Tongoro, joined the African LeadHERs initiative this year, creating designs for a fashion show dedicated to gender equality during the historic Generation Equality Forum. As part of the Pan-African Stay Safe Africa campaign in 2020, Ms. Diouf also provided 500 face masks to protect disabled athletes of Special Olympics Senegal.
Harouna Drabo, Journalist in Burkina Faso
Harouna Drabo is a committed journalist from Burkina Faso, who devotes his professional life to raising public awareness on pressing health issues. As part of Speak Up Africa's Lines of Impact campaign, an initiative dedicated to raising awareness of the fight against NTDs, Harouna has informed public debate, shared important scientific information, and protected the citizens of Burkina Faso from these diseases through accurate and insightful reporting. At present, 39% of the global NTD burden occurs in Africa, with 600 million people requiring treatment.
Pr. Samba Sow, Director of the Centre of Vaccine Development, Mali
Pr. Samba Sow is recognized for his commitment to championing research and development in Africa, and generating an open public discourse on key health challenges and solutions. Appointed a special envoy on COVID-19 by the World Health Organization in 2020, Pr. Sow has carried out life-saving research into vaccines, and through the African Voices of Science initiative has played an important role in tackling misinformation surrounding the pandemic and vaccine roll-out.
Serigne Mbaye Thiam, Minister of Water and Sanitation Senegal
Across Africa, 75% of the population live without access to adequate sanitation. As Minister of Water and Sanitation for Senegal, Mr Mbaye Thiam has been committed to the 2030 agenda to transform sanitation for all, rolling out the new African Sanitation Policy Guidelines (ASPG) to help countries develop sustainable and inclusive sanitation policies suitable to their needs. As Senegal prepares to host the 9th World Water Forum in 2022, the first time this milestone event is held in sub-Saharan Africa, Mr Mbaye Thiam will play a leading role in guiding conversations and creating change.
About Speak Up Africa
Headquartered in Dakar, Senegal, Speak Up Africa is a strategic communications and advocacy organization dedicated to catalyzing leadership, enabling policy change, and increasing awareness for sustainable development in Africa.
Through our platforms and relationships and with the help of our partners, we ensure that policy makers meet implementers; that solutions are showcased and that every sector – from individual citizens and civil society groups to global donors and business leaders – contributes critically to the dialogue and strives to form the blueprints for concrete action for public health and sustainable development.
Photo Credit: Speak Up Africa