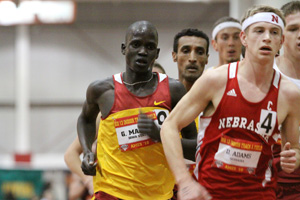 They call Guor Marial an athlete without a country, but that couldn't be further from the truth.
Although Marial, who fled civil war as a child, is proud to be South Sudanese, when he lines up for the Olympic marathon on August 12 in London, he won't be wearing the colours of the world's newest nation.
The Republic of South Sudan – which gained independence in July 2011 – was unable to send its own team so he will instead be competing as one of four Independent Olympic Athletes. (The others are from the Netherlands Antilles, which ceased to exist as a country in 2010.)
There's little doubt in Marial's mind, however, which country he is really representing.
"We didn't make it to the Olympics this year … but people will see that this is a South Sudanese running, that this is a symbol of our flag, even though our flag is not visible," said Marial, who trains in Flagstaff, Arizona.
"The whole of South Sudan will be watching every step of that marathon and cheering me on."
Life on the run
Most Olympic athletes have tales of hard work and sacrifice. But 28-year-old Marial's story of growing up amid a devastating civil war and arriving in the United States as a penniless refugee is more harrowing than most.
Fighting between southern rebels and Sudanese government forces reached his village in Unity State – now part of South Sudan – the year before Marial was born. He has few happy memories of his childhood: 28 relatives, including several siblings, were killed in the war, and he himself was forced to work first for soldiers and then for civilian livestock-raisers in the north.
"Every day was a sad day. You'd see someone die, someone got killed, and you'd just wonder if you were going to be one of those people. Growing up there was very tough but at the same time I didn't know what was a better life. I didn't know there was a part of the world that is peaceful and happy and people can play like a kid."
A few days after being made to tend goats, Marial, aged about eight, fled one morning at dawn with four other young captives.
He eventually made it to Sudan's capital, Khartoum, and then, along with his uncle, to Egypt and the US, where they settled as refugees in Concord, New Hampshire.
Marial had little interest in running when he first arrived in America. He was working, studying and trying to learn English. It also brought back too many memories of running for his life to escape his captors. "Coming to this place and it is peaceful, and no one is chasing me anymore, when someone told me to run I would say, 'You are out of your mind.'"
However, his boundless energy caught the attention of a high school gym teacher who sent Marial to Rusty Cofrin, a track and cross-country coach.
Cofrin remembers the first time he met Marial – wearing basketball shoes, baggy shorts and long white socks. They went for a run. "We did the first mile and he's not breathing hard at all and I thought, this kid is a find," said Cofrin from his home in New Hampshire. "He just floated."
Pressure from home to send more money and the death of his brother once drove Marial to the point of giving up running.
"I told him you're not going to quit this team. I won't allow it," said Cofrin. "I see you going to college and getting a degree. What is going to help you get to college is running.
"The day he found out he could run in the Olympics he called up. He said 'When I saw that email from them I thought about the day you told me you weren't going to allow me to quit.'"
Marial, who went on to run for Iowa State University, hit the Olympic marathon qualifying time last October, but his chances of competing in London seemed slim. He is not a US citizen and South Sudan is faced with too many other pressing issues to have had time to establish an Olympic committee or organise a team for London 2012.
Energetic lobbying by organisations including Refugees International, an advocacy group, and pages of sympathetic media coverage convinced the International Olympic Committee (IOC) that he should be allowed to compete.
But Marial flatly refused the IOC's first suggestion – that he run for the Republic of the Sudan. The war between north and south claimed millions of lives and left South Sudan in tatters. Relations between the two countries are still extremely fraught; border clashes earlier this year fuelled fears of a return to all-out war.
"I said I would keep trying [to go to the Olympics] until the gun for the marathon goes off. If the IOC said that the only way you can go to the Olympics is for Sudan then I would have said, 'I will give up my dream, and I will not go to the Olympics,'" said Marial.
Proud to have a home
Competing in London is a way for Marial to thank those who helped him on his way, particularly the families of teammates who took him in during his high school years.
"For me it is way of honouring … all the supporters and the people who opened their arms to me when I was a no one and showed me the way," he said. "It is also about honouring the people of South Sudan and the two million who died."
Most of Marial's family remains in South Sudan. Communications are difficult as they have no electricity in their village, and it has been five years since he last spoke to his father. "I would love to be able to talk to them before I go to the Olympics," he said.
He hopes his family can watch his marathon, though they would have to walk up to 64km to the nearest town as the rainy season has made the roads virtually impassable by car. "I called a relative at home to go and let my parents know I am competing in the Olympics, and it would be great if they can watch on TV," said Marial.
He knows that a podium finish is a long shot and says he is going into the competition with an open mind and no expectations.
Regardless of the outcome in London, Marial takes comfort in at last having a country to call his own.
"It is the best thing ever in the world. When you don't have a home and you go from house to house, sometimes you feel in no man's land because you don't have a home. I am proud that I have a home. It just feels so special."
IRIN News
www.irinnews.org
Lc/am/rz
Theme (s): Conflict, Refugees/IDPs,
[This report does not necessarily reflect the views of the United Nations]