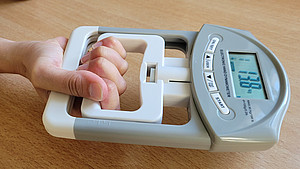 Berlin, 31 August 2022
Charité study provides evidence for long-held assumption
It has been suspected since the beginning of the pandemic that SARS-CoV-2 can cause Chronic Fatigue Syndrome ME/CFS. A research group from the Charité – Universitätsmedizin Berlin and the Max Delbrück Center for Molecular Medicine in the Helmholtz Association (MDC) has now shown in a well-controlled study that some of the COVID-19 sufferers actually develop the full-blown ME/CFS disease even after a mild course. In addition, the researchers describe a second group of post-COVID sufferers with similar symptoms. Different laboratory values indicate possibly different development mechanisms of the two clinical pictures. The study results are published in the journal Nature Communications*.
"Already in the first wave of the pandemic, the suspicion arose that COVID-19 could be a trigger for ME/CFS," says Prof. Dr. Carmen Scheibenbogen, acting director of the Institute for Medical Immunology at the Charité Campus Virchow-Klinikum. She heads the Charité Fatigue Centrum, which specialises in the diagnosis of ME/CFS (Myalgic Encephalomyelitis / Chronic Fatigue Syndrome) – a complex disease characterised by, among other things, leaden physical weakness. The centre was visited by the first patients after a SARS-CoV-2 infection in the summer of 2020. Since then, there has been increasing evidence of a causal relationship between COVID-19 and the disease ME/CFS, which often leads to a high degree of physical impairment.
"However, proving this assumption scientifically is not trivial," explains Prof. Scheibenbogen. "This is also because ME/CFS is still little researched and there are no uniform diagnostic criteria. However, through very thorough diagnostics and a comprehensive comparison with ME/CFS sufferers who had fallen ill after other infections, we have now been able to prove that ME/CFS can be triggered by COVID-19."
For the study, experts from the Charité's post-COVID network examined 42 people who had contacted the Charité Fatigue Centrum at least six months after their SARS-CoV-2 infection because they were still suffering severely from fatigue, i.e. pathological exhaustion, and limited ability to cope with everyday stress. Most of them could only do light work for two to four hours a day, some were unable to work and could hardly look after themselves. During the acute SARS-CoV-2 infection, only three of the 42 patients had visited a hospital but did not need oxygen. 32 of them had experienced a mild COVID-19 course according to the WHO classification, i.e. had not developed pneumonia, but had usually experienced severe symptoms of illness such as fever, cough, muscle and limb pain for one to two weeks. Since the SARS-CoV-2 infection had taken place in the first wave of the pandemic, none of the people included in the study had been vaccinated before. At the Charité, all those affected were examined by an interdisciplinary team from the departments of neurology, immunology, rheumatology, cardiology, endocrinology and pneumology with many years of experience in the diagnosis of ME/CFS. For comparison, the researchers used 19 people with a similar age and gender profile, as well as a comparable disease duration, who had developed ME/CFS after another infection.
For the diagnosis, the researchers took into account the so-called Canadian consensus criteria. "This catalogue of criteria was developed scientifically and has proven itself in everyday clinical practice to clearly diagnose chronic fatigue syndrome," explains Dr Judith Bellmann-Strobl, head of the multidisciplinary university outpatient clinic of the Experimental and Clinical Research Center (ECRC), a joint facility of the Charité and the MDC. She led the study together with Prof. Scheibenbogen. According to the criteria, just under half of the patients examined had full-blown ME/CFS after their SARS-CoV-2 infection. The other half had comparable symptoms, but their complaints after physical exertion, the so-called postexertional malaise, were usually not as severe and only lasted for a few hours. In contrast, the worsening of symptoms in the ME/CFS patients still occurred the next day. "So we can distinguish between two groups of post-COVID patients with severely reduced resilience," Dr Bellmann-Strobl sums up.
In addition to recording the symptoms, the researchers determined various laboratory values and related them to the hand strength of the sufferers, which was reduced in most of them. "In the people with the less pronounced exercise intolerance, we found, among other things, that they had less strength in their hands when they had an increased level of the immune messenger interleukin-8. It is possible that the reduced strength of the muscles in these cases is due to a persistent inflammatory response," says Prof. Scheibenbogen. "In contrast, in those affected with ME/CFS, hand strength correlated with the hormone NT-proBNP, which can be secreted by muscle cells when the oxygen supply is too poor. This could indicate that reduced blood flow is responsible for muscle weakness in them." According to preliminary observations by the scientists, the distinction between the two groups could also be reflected in the course of the disease. "In many people who have ME/CFS-like symptoms but do not develop the full-blown disease, the symptoms seem to improve in the long term," explains Prof. Scheibenbogen.
The new findings could contribute to the development of specific therapies for post-COVID syndrome and ME/CFS. "However, our data also provide further evidence that ME/CFS is not a psychosomatic but a serious physical disease that can be detected with objective examination methods," emphasises Prof. Scheibenbogen. "Unfortunately, we can currently only treat ME/CFS symptomatically. Therefore, I can only advise young people to protect themselves against SARS-CoV-2 infection by vaccination and wearing FFP2 masks."
*Kedor C et al. Post COVID-19 chronic fatigue syndrome following the first pandemic wave in Germany and biomarkers associated with symptom severity results from a prospective observational study. Nat Comm 2022 Aug 30. doi: 10.1038/s41467-022-32507-6
About ME/CFS
ME/CFS (Myalgic Encephalomyelitis / Chronic Fatigue Syndrome) is a serious illness that is usually triggered by an infection and often becomes chronic. The main feature is "postexertional malaise", a pronounced intensification of symptoms after little physical or mental exertion, which only sets in after several hours or on the following day and lasts at least until the next day, but often for several days or longer. It is associated with physical weakness, often headache or muscle pain, and neurocognitive, autonomic and immunological symptoms. The prevalence of ME/CFS in the population was estimated to be around 0.3 per cent worldwide even before the pandemic. Experts believe that the number of people affected by the COVID-19 pandemic will increase significantly. Pathogens such as the Epstein-Barr virus, the dengue virus and enteroviruses have been known to trigger ME/CFS. Cases of ME/CFS were also observed among people infected with the first SARS coronavirus in 2002/2003. ME/CFS must be distinguished from so-called post-infectious fatigue, which can last for weeks or months in the context of many infectious diseases. Prof. Scheibenbogen has summarised the current state of knowledge on ME/CFS after COVID-19 in a recent German-language publication.
Treatment of ME/CFS at the Charité
For the diagnosis and treatment of people with long-lasting symptoms after a SARS-CoV-2 infection, the Charité runs eleven special outpatient clinics at different clinics and institutes, which work together in the post-COVID network and care for different patients depending on their main symptoms. This includes the Charité Fatigue Centrum, which is the contact point for people who have persistent severe fatigue, concentration disorders and stress intolerance at least six months after their COVID-19 illness and whose symptoms increase after exertion. The CFS_CARE project offers interdisciplinary care for patients with ME/CFS, including a specially developed rehabilitation programme.
About the study
The basis for the data now published was the Pa-COVID-19 study platform. Pa-COVID-19 is the central longitudinal register study for COVID-19 patients at the Charité. It aims to investigate COVID-19 patients clinically and molecularly quickly and comprehensively in order to identify individual risk factors for severe forms of progression as well as prognostic biomarkers and therapeutic approaches. The protocol for the study is published here.
Caption: ME/CFS is characterised by weakness or excessive fatigability of the muscles. This hand strength meter can be used to determine the severity of symptoms. © Charité | Anja Hagemann