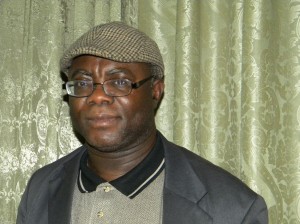 I have to confess that it is always a great delight to read opinion pieces from self-styled political non-partisans like Mr. Kofi Amenyo. The delight almost invariably inheres in the devious hilarity with which these Dzelukope/Sogakope Anlo-Ewe nationalists presume to subtly put one or two over our balding pates, before anybody had had enough time to digest their muck and then splutter, belatedly, to the wanton exhilaration of these street-corner analysts of what, in their own well-calculated opinions, is the genius stroke of siege on the sly.
Thus, in his latest take on the Presidential Candidate of the New Patriotic Party (NPP) for Election 2012, Nana Addo Dankwa Akufo-Addo, Mr. Amenyo labels the man whom many a Dzelukope/Sogakope Anlo-Ewe Mafioso loves to hate as "the enfant terrible of NPP" (See "Akufo-Addo May Be The Enfant Terrible of NPP" MyJoyOnline.com 3/25/11).
Well, since I predictably intended to take issue with such flagrant characterization, I decided to Google Dictionary.com in order to clarify matters for myself. And lo and behold, exactly as I had surmised, this is what Dictionary.com purveyed by way of a definition of what it means to be labeled as an "Enfant Terrible": "(1) An incorrigible child, as one whose behavior is embarrassing; (2) Outrageously outspoken or bold person who says and does indiscreet or irresponsible things; (3) A person whose work, thought, or lifestyle is so unconventional or avant-garde as to appear revolutionary or shocking; (4) A person given to unconventional or indiscreet remarks."
Well, before proceeding any further, it may be worth the reader's while to point out that Mr. Kofi Amenyo is no choir boy, or your typically dispassionate/objective writer/critic on Fourth-Republican Ghanaian political culture, at least as yours truly has been able to clinically determine from the author's quite considerable corpus in the opinion columns of Ghanaweb.com. The last time that I read anything from him, for instance, Mr. Amenyo had His Royal Majesty, the Asantehene, Otumfuo Osei-Tutu II at the acidic tip of his ballpoint pen; he was intemperately and vituperatively chastising the latter for what, I can't quite remember, except for the fact that it had something to do with Otumfuo's involvement with the World Bank. Back then, the writer seemed to be utterly displeased that Otumfuo Osei-Tutu had dared to conduct himself like the veritable nonpareil Imperial Majesty that he definitely is.
Back then, if I also recall accurately, I solemnly swore to lock up his jowls with a set of Vernier Calipers if the uppity hick committed, once more, the sacrilege of mistaking the Asantehene for either the Akple-chomping chief of Ho-Asogli or the latter's Fitri-guzzling elder brother at Anloga. And so far, it clearly looks as if Anlo-Kofi only partially got my message; which may largely explain why this time around he has decided to deviously pick on Nana Akufo-Addo.
Anyway, a Good Samaritan had better warn Anlo-Kofi that I still have my Vernier Calipers in hand and wouldn't hesitate, this time around, to delightfully ram it up his septic tank, if you know what I mean. For, needless to say, moving away from badmouthing my grandfather to my uncle (actually father in Akan traditional praxis) only makes matters worse. Then again, just why would any diehard partisan of Mr. Jerry John "Avaklasu" Rawlings presume to tag a man who has spent most of his life in mortal combat against such gross human rights violations as the dastardly assassination of the three Akan Supreme Court judges and the retired Ghana Army major "the enfant terrible of the NPP"? And just who is the enfant terrible of the so-called National Democratic Congress?
In his article, Anlo-Kofi also mischievously attempts to draw up the balance sheet on modern Ghanaian politics and finds virtually all of our leaders, including President Nkrumah, to be woefully wanting, except THE GREAT MISTER "YOR-KE-GARI" RAWLINGS – whose sole crime appears to be having, supposedly, sat passively and idly by while a lot of unspecified "bad things" happened on his watch. Somebody had better inform Anlo-Kofi that, indeed, there was an Akan-Gold Coast long before there was any such thing as Trans-Volta Togoland!
Now, I don't know that slyly attempting to make Akufo-Addo seem to be politically unappealing erases the indelible fact of former President Jerry John Rawlings' being the bloodiest tyrant as well as the most regressive personality to ever occupy Mr. Kofi Antubam's State Chair. And, of course, while he conveniently omitted the name of the brutally slain Gen. I. K. Acheampong from the list of significant Ghanaian rulers, there is absolutely no gainsaying that the 6-year tenure of the Asante-Trabuom native brought more than triple any tangible benefits that 20 years of Dzelukope Jeremiah brought Ghanaians.
As for the critic's pabulum about the power of incumbency redounding to the invariable and inevitable benefit of the Atta-Mills government, we would rather have Ghanaian voters decide who is better prepared to lead them beyond December 2012.
By Kwame Okoampa-Ahoofe, Jr., Ph.D.
Kwame Okoampa-Ahoofe, Jr., Ph.D., is Associate Professor of English, Journalism and Creative Writing at Nassau Community College of the State University of New York, Garden City. He is a Governing Board Member of the Accra-based Danquah Institute (DI) and author, most recently, of "The Obama Serenades" (Lulu.com, 2011).
E-mail: okoampaahoofe@optimum.net.