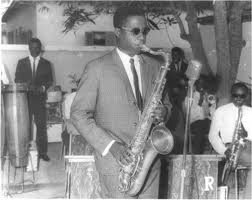 The founder of the Ramblers International Band, Mr. Jerry Hansen, passed away this Saturday morning after battling with an ailment at the Korle-Bu Teaching Hospital.
Citifmonline.com gathers the renowned musician has been hospitalised for about a week at the nation's premier hospital before his demise this morning.
The music icon received an award at the maiden Music of Ghanaian Origin Dinner and Awards night last year, for his contribution to live band music in Ghana.
Mr. Hansen (his showbiz name) was born on 23rd February, 1927 at Ashanti Bekwai, to Maami Senkire and Johney Hansen, a pharmacist.
He was named John William Hansen and at the age of five years was enrolled into the Seventh Day Adventist (SDA) School at Bekwai, where he was first exposed to music.
His then teacher, Mr. Stoke had a huge Piano Accordian which at the time brought the church to life when he got up to solo or accompanying the choir to perform.
Hansen admired both the teacher's performance and instrument so much that, he tried following him wherever he went, though he never got the chance of trying his hands on the musical instrument.
In 1939, Hansen left Bekwai to Koforidua where he attended the Methodist School. He later gained admission to Achimota School in Accra where he started real study of music under Ms. Parnell and Mr. Philip Gbeho. He then moved to Accra Academy which he completed in 1947 after obtaining their Oxford and Cambridge certificates.
Shortly after completion he got a job with the United African Company (UAC). Within two years of working for UAC, Hansen was offered scholarship to train as an optical mechanics, specializing in the maintenance of cameras and microscopes among others in Germany.
While in Accra, Hansen's interest in music made him join the Accra Orchestra which had King Bruce as one of its members around 1949. Though he was not good at playing any of the instruments at the time, only carrying them, gained him entrance into their performances.
Then in 1952, King Bruce formed the BLACK BEATS and convinced him (Jerry Hansen) to join it. Jerry Hansen played for the Black Beats from 1952 to 1961 when he left that band to form RABLER'S International Band with guys like Eddie Owoo, Frank Coffie, Kwesi Forson and Aryee Hammond among others.
The band which has since been under his leadership, has over 200 songs. Popular among the songs are "Ama Bonsu", Ewuraba Atifical Owuo, Egyanka Dabre and Knock on Wood, a song composed by Eddie Floyd of USA but played by Ramblers. RAMBLERS was the resident band of Star Hotel in the sixties and occasionally performed at Ambassador Hotel and other places including state functions.
The band excelled in its performances so well that it was made to perform at official functions involving foreign dignitaries in the country.