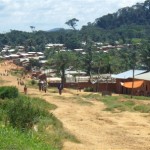 For the past 10 months, a little-known conflict in a marginalized corner of northeast Democratic Republic of Congo (DRC) has left a trail of killing, abduction, rape and forced displacement, with few signs of an imminent resolution.
The epicentre of the conflict is a vast forest reserve covering some 13,700sqkm in Orientale Province. Home to and named after a rare giraffid mammal, the Okapi Forest Reserve (RFO), a UNESCO World Heritage Site, has long been a source of tension because of its rich wildlife, timber and mineral resources.
The man most frequently associated with the recent violence is Paul Sadala, better known as Morgan. He is variously portrayed as the head of a gang of poachers, the leader of a militia group known as Mai-Mai Simba, a serial abuser of human rights, and a Robin Hood-type champion of local inhabitants who benefit little from the reserve's riches and who are rarely consulted about its management.
The national army, FARDC, has engaged Morgan and his men on several occasions since March 2012 – sometimes with the support of troops and air assets of the UN Stabilization Mission in the DRC (MONUSCO). But FARDC troops themselves have also been accused of looting and abusing the rights of civilians.
One humanitarian worker based in Orientale Province told IRIN that FARDC soldiers had arrested and abused women who had escaped abduction by Morgan's men.
The latest clashes took place when Morgan and his men overran the town of Mambasa for a few hours on 5 January, before being chased out by FARDC and MONUSCO troops. A week later, FARDC announced that it had also dislodged Morgan's men from locations in the mining regions of Pangoy and Elota in Mambasa Territory.
"Horrific" abuse
Over the past 10 months, around 32,000 people have fled their homes during attacks by Morgan's group or its clashes with FARDC. In many cases, the displacement was temporary.
During this period, some 3,000 women were abducted by Morgan's group and used as sex slaves, according to Abdalah Pene Mbaka, a local member of parliament.
In mid- November, 15 people arrived for treatment at the Mambasa health centre, recalled Rachidi Salimini, who manages a local radio station. "They had horrific injuries: raped women with burning wood inserted into their sexual organs, men with their ears cut off, men with their stomachs burned," Salimini said.
One woman abducted by the militia and rescued during a FARDC action in August spoke to IRIN in late 2012 about her ordeal: "We were lined up by the dozen and raped one by one. We found ourselves in the same lines with our daughters. One woman was stabbed in the thigh as she was resisting; others were stabbed in the vagina."
Many women who were raped had no timely access to post-exposure prophylaxis, which minimizes the risk of HIV infection, according to another humanitarian worker.
Other security incidents involving Morgan's group, reported by Radio Okapi, which is run by MONUSCO and the Fondation Hirondelle, include:
March 2012 – A hundred families fled their homes in Babwasende Territory, fearing attacks by a group of poachers led by Morgan, whom the army had driven out of a nearby forest.
May 2012 – Thirty women were raped in the village of Molende, south of Bunia, the main town in Orientale Province. A week earlier, 26 people were killed and 5,000 fled from several villages amid clashes between the army and Morgan's men.
24 June 2012 – Militiamen killed 12 people and looted administrative buildings in the village of Epulu, in the Okapi reserve. Twenty-eight people were abducted during the attack. The dead included two rangers working with the Congolese Institute for the Conservation of Nature (ICCN). According to the International Union for the Conservation of Nature (IUCN), the attack was carried out by "poachers in retaliation against enforcement by the ICCN of laws protecting elephants, okapis and other species, and prohibiting illegal mining and other activities destructive of the ecological integrity of the RFO," IUCN added that some of the FARDC troops responding to the incident "were involved in looting and ransacking of facilities."
13 August 2012 – At least 60 people died in a landslide in the area of Pangyoi, about 360km south of Bunia, while working in an artisanal gold and coltan mine under the control of Morgan.
7 November 2012 – In an attack attributed to Morgan's group, residents of Leleis and Muzaimbwa villages in Mambasa Territory were burned alive, women were raped and some victims had their ears cut off.
Root causes
"We had been captured by Morgan in Epulu," said one of those abducted, who was among 16 released in early July.
"In my family, he took my little girl, aged 13 years, my wives and I. We travelled for six days. On the seventh day, we were freed. But they kept 11 women, among them one of my wives. They raped my daughter," he said, requesting not to be identified by name.
According to Capt Vicky Kabosongo, the military prosecutor in Irumu Territory, Morgan faces charges of committing international crimes, including rape, massacre and looting. Although Morgan himself remains at large, 14 of his men have been detained at a military court in Bunia.
"Morgan lives in the forest, actually the jungle. He behaves like a king; he does whatever he wants, when he wants, without people knowing," said Jean Bosco Lalo, who coordinates civil society groups in Bunia.
Assessment of, and response to, the humanitarian situation in affected areas has been hampered by access, security and funding constraints.
"For sure there is no means of finding out the exact humanitarian situation in several villages in the forest," David Larue, the area coordinator of the NGO Solidarités, told IRIN in late 2012.
"One cannot get there by car. Furthermore, there is a risk with the missions. They [the militia] do not distinguish between the NGOs, the UN and MONUSCO," he said.
"We need to adopt a multi-sectoral approach and go a little bit deeper into the root causes and increase the involvement of the government to achieve a long term solution," said Francesca Fraccaroli, who heads the Bunia branch of the UN's Office for the Coordination of Humanitarian Affairs (OCHA).
"The presence of the state in many areas is mostly non-existent. They are already structurally vulnerable, especially with regard to water and sanitation. So unless humanitarian assistance moves ahead in parallel with community resilience and recovery and an increase in the presence of the state, we will just have a temporary solution," she told IRIN on 18 January.
For Dismas Kitenge, a prominent human rights activist in DRC, the absence of the state is just one of the factors contributing to the violence in Mambasa Territory.
Another key driver "is the complicity of the authorities and security services in the exploitation of natural resources and anarchic circulation of weapons of war", he said during a discussion of the crisis broadcast by Radio Okapi in November.
"This creates frustration and creates revolts. There is also a denial of indigenous people's rights to manage their own natural resources and a lack of transparency by the government and those who exploit the mines and forests. The local population doesn't understand anything, because they see people and companies turn up and don't know what they are doing, so they feel abandoned," he said.
"What's true about Morgan, although I do not condone the rise of his militia, is that he is the messenger for the grievances for people who see him as a real leader. People believe that the environment, the flora and fauna, get lots of attention and the people get none," he said.
IRIN News
www.irinnews.org
rp/pc/am/rz
Theme (s): Conflict, Gender Issues, Governance, Refugees/IDPs,
[This report does not necessarily reflect the views of the United Nations]