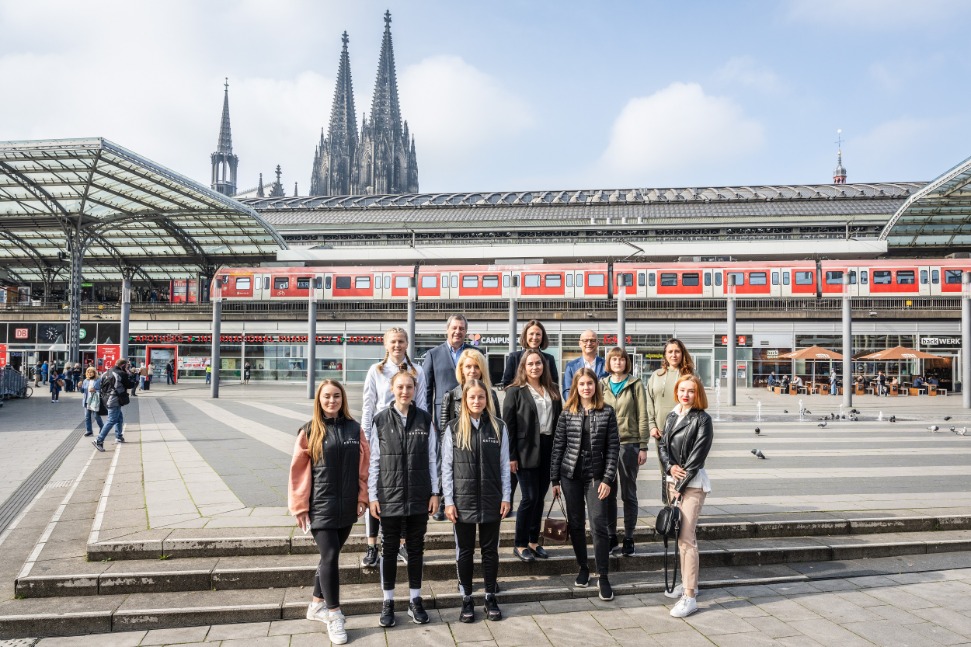 First job offers and first employment at DB, hundreds of counselling sessions – Cooperation with the Federal Employment Agency – Refugees in the care of 1. FC Köln at the DB counselling centre.
Cologne/Berlin, 14 April 2022 – Concrete help for a new start: Deutsche Bahn, the Federal Employment Agency and the 1. FC Köln Foundation today welcomed Ukrainian refugees to the DB vocational counselling centre at Cologne Central Station.
The women fled the war in their home country in March and are now being cared for by employees of the Foundation in Cologne.
At the new counselling centre, Deutsche Bahn and its cooperation partner, the Federal Employment Agency, offer help and information on starting a career with DB and in the German labour market. There is also hotline support.
The first job offers have already been made. In addition, around 400 talks have been held by telephone and on site throughout Germany.
Statements
Martin Seiler, Member of the Management Board for Human Resources and Legal Affairs at DB: "We are deeply touched by the fate of the Ukrainians who have fled. DB immediately launched the largest aid campaign in its history. This includes job counselling and recruitment. We have already been able to make offers to several highly qualified female engineers and hire a translator here in Cologne. And we are happy to be able to provide concrete help here unbureaucratically and quickly with the Federal Employment Agency and the 1st FC Cologne Foundation. DB has 500 different job profiles and we are confident that we can offer many jobseekers a secure perspective."
Dr Werner Wolf, President of 1. FC Köln: "We are pleased that we can continue to contribute to providing refugee Ukrainians with a dignified stay and integrating them into society in the long term."
Bianca Cristal, Managing Director of Labour Market Management at the North Rhine-Westphalia Regional Directorate of the Federal Employment Agency: "Many Ukrainians who have fled have had to go through terrible things in recent weeks. For them, the first priority is humanitarian aid. But many will soon take the second step and want to regain structure and normality for themselves and their children by taking up a job. We as job centres and employment agencies want to lend a hand with good counselling and placement. Together we will master the path of integration into the labour market well. That is why we are pleased to have the opportunity to approach the refugee Ukrainians at central locations with Deutsche Bahn – in Cologne, Frankfurt and Berlin. For us, this is an important sign of solidarity in action."
Counselling for refugees
Deutsche Bahn and the Federal Employment Agency opened counselling centres in Cologne, Berlin and Frankfurt in the first week of April. Labour market experts from DB and the Federal Employment Agency are available on site on weekdays from 10 a.m. to 1 p.m. for personal talks on career prospects in Germany. They will answer questions on the topics of work, residence and the application process. DB also provides information on specific jobs in the company and supports applications. New colleagues receive a language course if required. Advice is given in Russian and Ukrainian or with the help of interpreters on site. Advance registration is not necessary.
A DB telephone hotline also offers personal advice on rail careers. It can be reached Monday to Friday between 8 and 10 a.m. on +49 (0)30 297 34949. DB employees explain the first steps on the German labour market for specific entry opportunities at DB.
For questions about the German labour market, the BA has also set up a telephone hotline in Ukrainian and Russian, which can be reached at +49 (0)911 178 7915 from 8 a.m. to 4 p.m. Monday to Thursday and from 8 a.m. to 1 p.m. on Fridays.