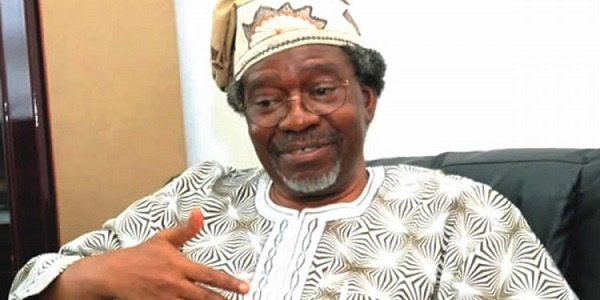 It is quite a shame that when it comes to the measure of their relationship with Ghana, some Nigerian intellectuals who ought to know better seem to have absolutely no civilized sense of decency vis-à-vis the way and manner in which their peers who voluntarily opt to spend their sabbatical leaves in Ghana ought to comport and deport themselves. Which is why insufferably arrogant Nigerian academics like Prof. Akin Oyebode, described as famous for his work in International Law and Jurisprudence, are able to imperiously call on Ghana's President Addo Dankwa Akufo-Addo to render an unqualified apology to his country for the prompt and righteous dismissal of Prof. Augustine (Austin) Nwagbara, the former Vice-Chancellor of the University of Lagos (UNILAG), Akoka, Nigeria (See "Nigerians Demand Apology from Akufo-Addo Over Dismissal of Prof. Nwagbara" Modernghana.com 8/2/19).
First of all, it needs to be made crystal clear to Prof. Oyebode that nowhere is it written in International Law that any Visiting Professor from one country to another is inalienably entitled to the sort of hostile and conspiratorial manner in which Prof. Nwagbara, the aptly dismissed Visiting Professor at the University of Education, Winneba (UEW), was seen grossly and deliberately misconducting himself before a section of the membership of the Nigerian community resident in Ghana on the YouTube videoclip that went viral on social media and directly led to the dismissal of Prof. Nwagbara.
To be certain, in another African or Third-World country far less liberal and civilized than Ghana, and I definitely count Nigeria in this category, Prof. Nwagbara could very well have been put on trial and handed a long and harsh prison sentence, for daring to both falsely accuse both Ghanaian citizens and their media of singularly demonizing Nigeria and its citizens before the global community; and then even more feloniously, instigating diplomatic operatives of the Nigerian High Commission to Ghana to plan and orchestrate a massive media campaign aimed at both destabilizing the Government of Ghana, as well as apocalyptically tarnishing the hard-earned and long-standing image and reputation of the first sub-Saharan African country to epically assert its sovereignty from British colonial imperialism.
Indeed, were he truly the erudite intellectual and the wiseman that he is mischievously being made out to be by Nigeria's Punch newspaper, Prof. Oyebode would have rather called on the Abuja government of President Muhammadu Buhari to unreservedly apologize to the latter's Ghanaian counterpart and sue for diplomatic and political reconciliation. In all likelihood, even as a relative of mine who briefly domiciled in Nigeria during the late 1970s confided to yours truly in the wake of the Nwagbara Controversy, any Ghanaian academic or Visiting Professor to any of Nigeria's flagship academies who grossly misconducted himself in the crude, wicked and primitive manner in which Prof. Nwagbara was seen disparaging Ghanaian education and the citizenry on the videoclip, would not have survived long enough to even think of finding his way out of that country, let alone scandalously presume to haughtily lecture Nigerians like Professors Nwagbara and Oyebode on the need for unfettered democratic tolerance in the face of raw sedition and blanket national character-assassination.
Prof. Oyebode's call also flagrantly insults the intelligence and the discretionary powers and professional integrity of the UEW employers who acted promptly and opportunely to dismiss the criminally hauteur Prof. Nwagbara – who, as an Ibo/Igbo-descended Nigerian citizen, by the way, would not have dared to insult the common sense and dignity of the Yoruba-descended Nigerian citizens of Lagos State, while he was Vice-Chancellor of the University of Lagos, and gotten to keep his job. You see, Dear Reader, Prof. Nwagbara's seditious and conspiratorial shenanigans could very well have degenerated into a full-scale diplomatic row between our two largely friendly countries, and perhaps even worse. But, then, what do you really expect from a stereotypically petulant and belligerent Ibo/Igbo native like Prof. Nwagbara whose staple diet well appears to be creating enemies out of his otherwise genial and hospitable hosts?
If, indeed, Nigerian nationals are being deported in unusually huge numbers by the Accra Government, maybe Prof. Oyebode and those Nigerians who think like him ought to be looking critically at the reasons given by the Immigration Services Department of Ghana, to speak little about the disproportionate level of heinous acts of criminality perpetrated by Nigerian migrants who choose to take up residency in Ghana, all in the dubious name of ECOWAS.
*Visit my blog at: kwameokoampaahoofe.wordpress.com Ghanaffairs