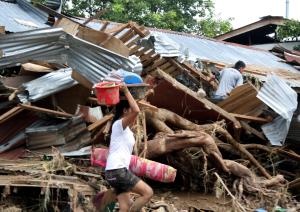 A tropical storm which hit the southern Philippine island of Mindanao on 17 and 18 December, leaving over 650 dead and hundreds missing, caught the authorities largely off guard.
"This is not something we expected," former army General Benito Ramos, the Philippines' top civil defence official and head of the National Disaster Risk Reduction and Management Council (NDRRMC), told IRIN on 19 December, citing the unusual path the storm (named Washi) took.
"The northern part of Mindanao was never a storm path, so local officials were left unprepared," Ramos said. "Everyone was sleeping when the floods struck before dawn. Chaos followed in the darkness."
Most of the 20 or so typhoons to hit the Philippines annually strike the northern island of Luzon.
Washi dumped a record amount of rainfall across some 13 provinces, causing landslides, flash floods and overflowing rivers, said NDRRMC.
"It happened in the evening and it was very dark. The power was cut off, and many of the victims lived near rivers," said Gwendolyn Pang, secretary-general of the Philippine National Red Cross. "It was a combination of many things: There was heavy rainfall over mountainous areas; the rivers were swollen and it came on a high tide… People were taken by surprise and are unprepared for such disasters," she said, citing climate change.
Hardest hit were the cities of Iligan and Cagayan de Oro on Mindanao's northern coast which have not seen such powerful storms in living memory.
According to NDRRMC on 19 December, some 143,000 people were affected, with 46,561 sheltering in 47 evacuation centres, and more than 1,500 others staying with friends or relatives.
Ramos said this was the worst storm since Ketsana, which left 400 people dead in Manila in 2009.
Gushing water
Alicia Mapuyag, a mother of five from Iligan, said the sound of gushing water inside the small family home woke them up, and within minutes they were wading in murky water.
"There was no time to retrieve dry clothes and supplies. We just grabbed each other and went outside," she said, adding that her teenage sons tied a rope round a tree to help them cross the street and reach a two-story building where they waited for help.
"Everyone was in the same situation. People were crying out the names of their missing loved ones. It was terrible."
According to Save the Children, at least 50,000 children have been caught up in the flooding.
"We fear that many children were split up from their parents as this disaster unfolded, and our priority is to reach them as soon as possible," said Anna Lindenfors, Save the Children's country director in the Philippines. "We are especially worried about children trapped in areas we cannot access due to damage caused by the storm."
With key water supplies contaminated by floodwater, Ramos said drinking water was also becoming a problem, and appealed for donations from the public.
The tragedy comes just days after the UN put out an appeal for US$38 million for nearly 700,000 people in central Mindanao where floods earlier in the year displaced hundreds of thousands.
Complicating the situation is a decades-old insurgency on the island which perennially leads to the displacement of thousands, including families already affected by disasters.
According to the UN Office for the Coordination of Humanitarian Assistance (OCHA), a government-led assessment team and the Humanitarian Country Team are on the ground in Mindanao; preliminary findings are expected later in the day.
IRIN News
fv/ds/cb
Theme (s): Natural Disasters,
[This report does not necessarily reflect the views of the United Nations]