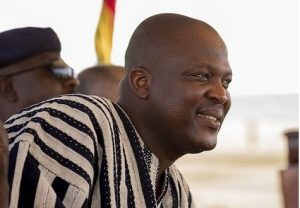 His name is only given as Rafik, and he cynically claims that Mr. Ibrahim Mahama, the younger half-brother of former President John Dramani Mahama, did not issue 44 dud, or bounced, checks to the Ghana Revenue Authority (GRA) – (See "Ibrahim Mahama Never Issued 44 Cheques to GRA – Aide" Abusuafmonline.com / Ghanaweb.com 4/27/17). What is very annoying about this dispute is the fact that it is in the form of a zany fib or a denial that is no denial at all, but a frivolous and inexcusably devious attempt to make a criminally indefensible act seem a little less serious than it really is. One thing, though, is clear about yours truly's stance on this issue as well as the stances of the overwhelming majority of Ghanaian citizens: we generally do not trust people with single names, especially when such people also happen to be fronting for brazen mega scam artists like Mr. Ibrahim Mahama.
Well, as already hinted above, Mr. Rafik is not denying that his boss and the proprietor of some two firms of dubious credentials called MBG Ltd and Holdman Brothers issued any checks to the Ghana Revenue Authority that were dishonored by the banks, either because the drawer of those checks had maintained phantom accounts with the concerned banking institutions or his accounts only existed on the drawing board. You can call it a figment of his hallucinogenic imagination. Now let's cut to the chase; and it is simply that, according to Mr. Rafik, Mr. Ibrahim Mahama issued "only 24 checks" to the Ghana Revenue Authority that were dishonored by the banks, 12 each for his aforementioned two companies. As of this writing, the Economic and Organized Crime Office (EOCO) had reportedly ordered the bespectacled mega scam artist to pay the State the humongous amount of GH₵ 12.7 million by the close of business on May 8, 2017.
As I hinted in a previous column, even if the Engineers and Planners (E&P) proprietor had bounced 4 checks, and not 44 checks, it would still be tantamount to serious fraud committed against the Democratic Republic of Ghana, and that is criminal enough to have warranted the fraudster doing time in the slammer or stir-house. But, of course, in all likelihood, the man whose elder brother used his powerful position as President of Ghana to get a banking institution to ease up on him will not spend a millisecond in prison custody. That is the way it is and goes in even some of the most technologically and culturally advanced societies around the globe. In other words, the upshot of this matter is a foregone conclusion. And so I don't know why we are even wasting our time and our breaths and our tongues to discuss and/or parse the same.
If the State can get the kid brother of our proverbial "Northern Star" to repay even half of the GH₵ 12.7 million tax bill imposed on the Nyaho-Tamakloe scion by the May 8 deadline given him by the GRA administrators, all I can say are "Amen!" and more power to President Addo Dankwa Akufo-Addo and his men and women at the Flagstaff House and the various ministerial offices and departments dotted all over Accra. I am here, of course, thinking about the Woyome Heist in which another major political underwriter of the faux-socialist National Democratic Congress (NDC) was literally gifted the behemoth sum of GH₵ 52 million by the self-righteous propagandists of probity, accountability, transparency and justice.
Mr. Rafik, the Ibrahim Mahama aide, also claims that the Akufo-Addo government has reciprocally committed itself to honoring its liability to at least two of the companies owned by the Fiaga/Awomefia of Check Bouncers. I don't recall any key New Patriotic Party operatives entering into any contractual agreements with Mr. Ibrahim Mahama, during the course of the last 8 years on behalf of the Ghanaian people. What this simply means is that the government needs to take a hard look at any contractual agreements initialed by these two brothers at the expense of the Ghanaian taxpayer before doling out even one pesewa.
*Visit my blog at: kwameokoampaahoofe.wordpress.com  Ghanaffairs
The opinions expressed are the author's and do not necessarily reflect the views or have the endorsement of the Editorial Board of www.africanewsanalysis.com and zongonews.com