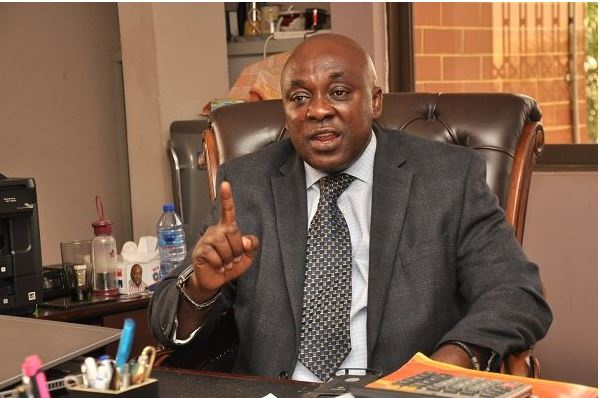 I saw in his overweening pride and arrogance, the imminent fall of the former Deputy Minister for Trade and Industry, Mr. Carlos Kingsley Ahenkora. At the time, which was just about a couple of weeks ago, I did not hesitate to caution the Tema-West's Member of Parliament for the ruling New Patriotic Party (NPP) to rein in his tongue and desist from diarrheal comments that clearly lacked common sense and unnecessarily put the government in a bad light. Alas, Mr. Ahenkorah would not listen. One of my relatives recently informed me that Mr. Ahenkorah was likely one of the relatives from Nana Akufo-Addo's maternal Akyem-Abomosu side of the family, which I found to be all the more reason why the 53-year-old Mr. Ahenkora – the latter will turn 54 years old later this month – needed to exercise himself with circumspection and a great sense of intellectual, psychological and emotional maturity and verbal discipline.
I even suggested that he make the Public Relations Officer (PRO) of the Trade and Industry Ministry do most of the talking for him from hence. But, of course, I did not really expect this foolishly self-absorbed middle-aged baby to pay heed. So, in the end, in classical Marlowean parlance, Mr. Ahenkorah literally hoisted with his own petard. He was an arrant fool, so he had to exit the hallowed corridors of power like the pathologically foolish pre-teen boy that he clearly appears to be. Indeed, ever since he came to my attention and knowledge and the political and media limelight, when he has not been raucously engaged in unruly behavior like a dirty street boy, the Kwame Nkrumah University of Science and Technology (KNUST) alumnus has been engaged in one form of mischief or another, in the sort of lowbrow boastfulness that is highly unbecoming of a ministerial deputy anywhere in the civilized democratic world.
Sometimes, Mr. Ahenkorah gave the rather uncomfortable impression that he was, somehow, the political coequal or the classmate of President Addo Dankwa Akufo-Addo. For instance, when he managed to beat off the challenge of his rivals in the recent NPP Parliamentary Primaries, Mr. Ahenkorah was widely reported to be bragging that his victory, somehow, presaged or foreshadowed the imminent victory of President Akufo-Addo in the upcoming 2020 Presidential Election. He had this sense of grandiosity about himself. But what rankled me, and I believe a significant number of Ghanaians as well, was when the recently resigned Deputy Trade Minister flippantly suggested, at the very beginning of the spread of the COVID-19 Pandemic throughout Ghana, that, somehow, his apparently skillful and globally recognized competent handling of this hitherto globally unprecedented nightmare meant that Nana Akufo-Addo was poised to clinching a landslide victory in the 2020 Presidential Election.
You see, so shallow-minded was this self-infatuated popinjay that Mr. Ahenkorah seemed to be absolutely clueless about the fact that the eventual outcome of the ravages of the COVID-19 Pandemic was nowhere in sight or certain. On the latter count, as well, I had to sternly warn a diarrheal-mouthed Mr. Ahenkorah to zip up his big buccal cavity but, predictably, to absolutely no avail. And now this verbally obstreperous politician has done precisely what I expected he would do all along, that is, put his big foot in his equally big mouth by logically committing what may aptly be termed as political suicide. We are informed by the media that just this past couple of days, at the start of the Parliament-backed and Supreme Court-sanctioned compilation of the new National Biometric Voters' Register (NBVR), Mr. Ahenkorah, who recently tested positive for the Coronavirus and was observing the 14-day mandatory quarantine, decided to flout this medically informed executive directive by recklessly touring some of the Voter-Registration Centers in his Tema-West Constituency.
And now, our protagonist may very well stand the chance of having his parliamentary primary election victory promptly revoked by his local and national party bosses, if the NPP is to strongly reposition itself to retain the Tema-West's Parliamentary Seat in the 2020 Parliamentary Election barely 5 months from now. But, of course, even more seriously, Mr. Ahenkorah equally stands the risk of being indicted and prosecuted for criminally and deliberately spreading the deadly Coronavirus among some unsuspecting registrants in his own constituency and well beyond. He also foolishly claims that he is asymptomatic for the COVID-19 Virus, so maybe a doctor or healthcare professional needs to educate this epically failed graduate of the Ghana Maritime Academy and political comedian precisely what being "asymptomatic" for the COVID-19 means, in terms of the infection and spread of this global nightmarish blight.
*Visit my blog at: KwameOkoampaAhoofeJr@modernghana.com