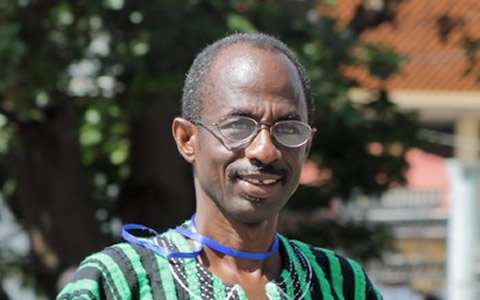 I don't know how many times it has to be drummed into the apparently stolid ears and dull brains of Mr. Johnson Asiedu-Nketia, that it was the pathologically gross incompetence of former President John Dramani Mahama, and his destructive and inexcusably unpatriotic policy of involving our soldiers in the protection of illegal foreign miners, that caused the death of his own nephew, Major Maxwell Adam Mahama, who became the veritable and tragic victim of the lost credibility of the members of the Ghana Armed Forces (GAF) among ordinary Ghanaian citizens (See "Mahama Lynching: 'I Don't Regret Accusing Akufo-Addo'" Classfmonline.com / Modernghana.com 6/14/17).
It may also be of great interest to Mr. Asiedu-Nketia (aka General Mosquito) to know that no amount of National Democratic Congress-sponsored killings, such as that of Major Mahama, will prevent President Addo Dankwa Akufo-Addo from healthily and progressively conducting the nation's foreign-policy duties and obligations. You see, deliberately killing and then pretending to be scandalized by their own systematic policy of staged assassinations is what NDC key operatives like the career General-Secretary of the country's main opposition political party do best. We clearly and shockingly witnessed this gory and legally and morally sickening scenario in the death of then-President John Evans Atta-Mills.
Rather than civilly and responsibly tell the nation about the cause of the death of their leader and his immediate boss, then-Vice-President Mahama bizarrely and unconscionably chose to celebrate the suspicious, and mysterious, passing of the former University of Ghana's tax-law professor as a "Godsend" event auspiciously precipitated by "Divine Providence in His inscrutable wisdom." Now, let us talk about both political criminality and administrative competence, General Mosquito.
Would Mr. Asiedu-Nketia also provide Ghanaians with the itinerary or travel plans of his former boss and former Chief Resident of the Flagstaff House in the wake of the grisly stabbing death of Mr. Joseph Boakye Danquah-Adu, then-Abuakwa-North's New Patriotic Party Member of Parliament? Did the clearly NDC-sponsored assassination of the now-President Akufo-Addo's cousin grind then-President Mahama's travel plans to a halt? And is Mr. Asiedu-Nketia also hereby implying that Mr. Danquah-Adu was a lesser Ghanaian citizen or of a lower-class status than Major Mahama?
At any rate, what is the worth or value of an apology rendered by Mr. Asiedu-Nketia? What kind of law-and-order country did President Mahama hand over to President Akufo-Addo? And has Mr. Asiedu-Nketia ever heard of a District Chief Executive called Mr. Peter Kenyenso from Nkwanta-South, in the Volta Region? Has the NDC's political sponge ever heard of a slain regional party chairman called Mr. Adams Mahama? What sheer coincidence, huh?! And Did President Mahama ever take even half-responsibility for the Mafia-style rubout of Mr. Kenyenso? Did he even muster the moral courage of a conscientious leader to attend the funeral and burial rites of this personal appointee of his?
Come on, bring it on, Mr. Mosquito!
*Visit my blog at: kwameokoampaahoofe.wordpress.com  Ghanaffairs
The opinions expressed are the author's and do not necessarily reflect the views or have the endorsement of the Editorial Board of www.africanewsanalysis.com and www.zongonews.com