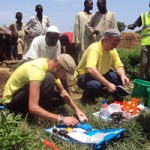 The Nigerian government has stood back and watched while hundreds of children in the northwestern state of Zamfara have died of lead poisoning, and hundreds more been affected by it over the past two years, say rights groups and the local authorities.
At least 400 children who had worked in artisanal gold mines were reported to have died in Zamfara State in 2010, in what Human Rights Watch (HRW) describes as "the worst lead poisoning epidemic in modern history". Yet since then the government has taken little action to curb the mining or make communities more aware of its dangers.
"[So far] the federal government has played virtually no role. They just sent some high ranking people to the site, and gave a tiny bit of money," said HRW researcher Jane Cohen. "Under international law they have an obligation to look after their citizens."
The lead poisoning is caused by artisanal gold mining – the ore in Zamfara State also tends to be rich in lead, so when it is crushed to extract gold, lead dust is released. Children are exposed when relatives return home covered in the dust, when ore-bearing rocks are crushed in people's homes, or through working in the mines themselves.
Children are highly susceptible to lead poisoning: short-term effects include convulsions, loss of consciousness, and blindness; serious long-term effects are anaemia, renal failure, brain damage, and impotence, according to Médecins Sans Frontières (MSF).
Working with the Zamfara State government and the US Centers for Disease Control, MSF has been giving chelation therapy – a treatment to remove metals from the body – to 2,500 children since the crisis was identified in 2010. Of these, 2,000 are still receiving treatment.
An estimated 2,000 children urgently need treatment in Bagega village, as well as children in a further seven contaminated villages, according to Cohen.
"Lost generation"
However, treatment is pointless if children are going to be re-exposed to lead, so decontamination needs to take place in all these villages before it begins, said Cohen. Effectively dealing with the lead problem also requires making mining practices safer so areas are not re-contaminated.
While MSF will care for any critically ill child whom they come across, Ivan Gayton, head of MSF in Nigeria, is "sure" there is unreported mortality. "Every month that goes by. more children are being damaged." Even when lives are saved, "the neurological damage is huge. There is potential for a lost generation of children of northern Nigerians whose health and IQs will suffer," he told IRIN, adding: "For the most part, we're holding a finger in the dike."
A coalition of groups – including US-based environmental engineering firm TerraGraphics, the World Health Organization (WHO), and the UN Children's Fund (UNICEF) – assisted the state government to begin decontamination in 2010. In November 2011 WHO reported seven villages had been cleaned up, but that cases of lead poisoning had been confirmed in 43 other villages and the full scale of the epidemic was not fully known.
In late 2011 the Zamfara State government put together a clean-up team that has begun decontaminating sites in Bagega – thus far 10 houses are considered to be safe. But the state authorities are "not capable" of cleaning up all the contaminated sites without help from the federal government and international groups, said Mouktar Lugga, Zamfara state commissioner for the environment.
Cleaning up all the contaminated sites and implementing safer mining practices will require US$4 million, estimates HRW, noting the need for federal support.
Teaching safe mining practices to communities is also urgently needed, says HRW. These include wet milling or grinding the ore in tanks to minimize dust, as well as simple habits such as encouraging miners to wash before returning home so they do not bring lead dust into their houses.
Money to be allocated "soon"
The federal authorities have told MSF that they have identified a funding pool of $4 million to address some of these issues, and will allocate it soon.
Zamfara State's Lugga was optimistic the federal government would release the funds, saying they had "showed concern" for the situation.
Nigeria's minister of environment, Hadiza Mailafia, did not respond to IRIN's requests for an interview.
However, some are concerned that pronouncements by the federal government in the past that the artisanal mining in the area is illegal will not help matters, say NGOs.
According to HRW's Cohen, current laws do not actually make the mining illegal, and the federal government is only using this as an excuse to place blame on the miners. She added that banning the practice is in any case unrealistic.
MSF's Gayton agrees that invoking the law is unhelpful. "Criminalizing [artisanal gold-mining] would drive it underground. and people would be afraid to bring their children for treatment," Gayton said. This was a major problem in the past, which upped the number of sick children who went on to die, according to MSF.
"Given the price of gold, mining is going to happen," he added, pointing out that the "gold rush" in northern Nigeria could be positive since it has the potential to lift people out of poverty [one gram of gold could be sold for $23 in 2010]. "Safer mining is absolutely achievable – there's no reason for the children to be dying."
IRIN News
wb/aj/cb
Theme (s): Children, Economy, Environment, Governance, Health & Nutrition, Water & Sanitation,
[This report does not necessarily reflect the views of the United Nations]