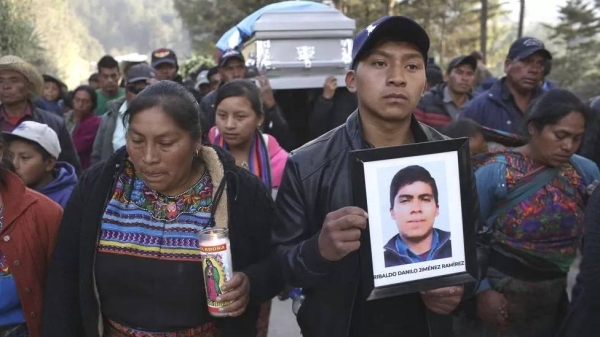 MEXICO CITY — A court in Mexico has convicted 11 ex-police officers of killing a group of migrants near the US border in 2021.
The bodies of 17 migrants were found in a burnt-out vehicle in the town of Camargo in Tamaulipas state.
Investigators say they were killed as part of a turf war between criminal gangs over control of migrant smuggling routes in the area.
Every year, thousands of people from Central America attempt to make the long journey to the US through Mexico.
A total of 19 bodies were found in the charred vehicle in Camargo in January 2021.
Sixteen were found to be from Guatemala and one from Honduras. The other two bodies were those of Mexican traffickers taking them to the border, investigators said.
Forensic tests showed that they were shot dead before being set alight.
Initially 12 officers faced murder charges, but one was convicted of abuse of power after co-operating with investigators.
One of the victims was 22-year-old football player Marvin Tomás, from Comitancillo in Guatemala.
Killings of migrants are not unusual in Mexico. In 2010, 72 were murdered in San Fernando, also in Tamaulipas state. And 49 dismembered bodies were found in Cadereyta in Nuevo León in 2012.
The Zetas cartel controls much of the region and is thought to target immigrants who try to cross it without paying the gang.
Municipal and state police officers are often recruited by cartels – either by the offer of large sums or by threats – to turn a blind eye or even provide the cartels with safe passage. — BBC