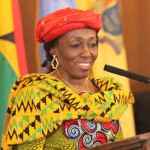 Defeated presidential aspirant in the just ended primaries of the ruling National Democratic Congress, Nana Konadu Agyemang Rawlings, has been advised to find something else to do with her life other than politics.
The advice came from none other than the Former First Lady's In-law, Mr. Haruna Atta, Managing Editor of the Accra Daily Mail Newspaper, who is married to Nana Konadu's sister.
The Former First Lady had ignored several calls on her to pull out of the race and went the full horn backed by her husband and NDC Founder, Jerry John Rawlings, who described her as "the one and only" who could put the NDC back on track.
Mrs. Rawlings explained to Ghanaians that her decision to unseat President Mills was because he had presided over growing divisions in the party.
According to her, party structures had been neglected by the party's' leadership, and that the party was in leadership crisis.
One of her playing cards was her claim that the NDC under President Mills' leadership had lost touch with the grassroots which has created despondency among party faithfuls.
But the about 3,000 delegates of the NDC dealt a humiliating blow to her presidential ambitions, handing her a 96.9% to 3.1% drubbing at the end of a contest.
President Mills won in all 10 regions with a total of 2771 votes; the former First Lady received a measly 90 votes. Even the Ashanti Region, where she hails from, offered her 9 votes.
Speaking to Citi News about the outcome of the congress, Mr. Haruna Atta said President Mills' victory should strengthen his mandate to concentrate more on the affairs of the country.
He however advised Mrs. Rawlings, his in-law, to go into something else other than politics.
"This is overwhelming and I think it gives the President more of the mandate and the authority I have been talking about. I will congratulate him and I hope that now he can concentrate more on the economy, security and other matters. By and large, I think it strengthens our democracy.
Unfortunately, I can't say much about my sister-in-law, but I just wish her luck and hope that she may find other things doing with her life instead of just politics. There is life after politics" he noted.
citifmonline