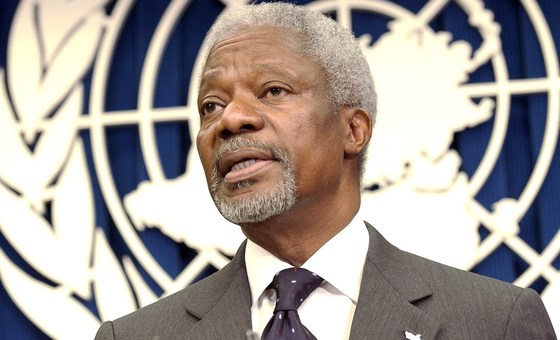 This writeup is not exactly your typical tribute. You see, the glorious passing of a great and distinguished global diplomat like Mr. Kofi Atta Annan (1938-2018) – I don't do numbers, but I can't simply let go of my fixation with the date 8/18/18; I believe there is power, if not magic, in numbers – verbally disarms even the most eloquent and well-meaning sympathizer; and we are left reminiscing the pleasant memories and pride that this veritable Son-of-the-Soil brought into our lives. Interestingly, many of us forget that had the late Egyptian national, Dr. Boutros Boutros-Ghali (1922-2016), with his Jewish-Egyptian wife, if memory serves me accurately, "behaved himself" as expected of him by his American sponsors, Dr. Boutros-Ghali would have gotten to serve two full-terms at the UN, and his Ghanaian-born arch-lieutenant would never have succeeded him as the first "indigenous" African to be elected to the highest and, perhaps, the most influential diplomatic post in the world. At least not in this lifetime.
Under the specious guise of geopolitical "Africanity," Mr. Annan had been suavely passed over by the racially and culturally intransigent permanent membership of the United Nations' Security Council for Dr. Boutros-Ghali, then a Professor of International Relations or Diplomacy at Columbia University. The subtle pretense here was that, somehow, the post of the Secretary-General of the United Nations was one that strictly required the mettle of a formidable intellectual. The unspoken subtext or implication here, of course, was that, somehow, this Ghanaian native was not intellectually astute enough to warrant being ceded the job, so the diplomatically coded phraseological putdown suavely filtered into the media public domain was that whatever he clearly seemed to lack, by way of cognitive gravitas, was passably and tolerably compensated for by his remarkable "administrative skills," as a corporate insider, and as "enviably" demonstrated by the several departments or divisions within the UN establishment, including the Peacekeeping Department, which Mr. Annan had then been heading for quite a considerable while.
Then, there was also that other Ghanaian diplomat by the name of Mr. Kenneth K. S. Dadzie (1930-1995), whom everybody thought was quite a formidable match, in terms of academic and professional stature or profile, and could readily give Dr. Boutros Boutros-Ghali, the Egyptian Coptic Christian, a run for his money, as it were. But then, there was also this muted rumor swirling around the private personality and lifestyle of Mr. Dadzie that seemed to suggest that since this most experienced Ghanaian diplomat had no wife and was also not known to have ever been married, there was absolutely no reason for anybody not to believe that Mr. Dadzie was not gay or homosexual. Nobody was publicly making a clean breast of it or mouthing it up, but it was quite obvious that this aspect of his life was definitely being held against the man. The rancid and acrid stench of homophobia hung heavily in the electrically charged atmosphere of the New York City of the early 1990s.
Then, again, there was also the case of the much younger Secretary-General contender from Ghana's immediate Western neighbor, that is, the Ivory Coast (or La Côte d'Ivoire), called Mr. Amara Essy (Born in 1944), whose candidacy the infamously stiff-necked French government officials were vigorously and inexorably pushing like a juggernaut. The Francophone patrons of Monsieur Essy would even flippantly accuse Mr. Annan, who spoke the French language with near-native fluency, according (to) expert opinion, of speaking the language with a very bad Afro-English accent. Being a master of repartee, Mr. Annan would savvily riposte that he had been so busy speaking so much first-rate French that he was actually beginning to speak English with a Gallicized accent. Many believe that it was this inimitable knack or flair for spur-of-the-moment humor that effectively disarmed the characteristically argumentative and cantankerous French diplomats and got him the staunch backing of the latter. For me, personally, though, the historic election of Mr. Annan who, by the way, shared the same birthday of April 8 with yours truly, though we were born nearly a quarter-century apart, made the Kumasi-born but Cape Coast native a veritable symbol of Ghanaian and African pride.
There is also this personal edge of friendship struck between Mr. Annan and my late father, who, legend has it, had played the organ or piano to the rapturous delight of the future United Nations' Secretary-General, at a memorial service or ceremony that the Mfantsipim-schooled Mr. Annan held for his late father. And then there was that very dark and cloudy Thursday or Friday morning in April or May of 1998, when my mother passed and Mr. Kwame Annan, the younger half-brother of Mr. Kofi Annan, showed up at our apartment in New York City's Washington Heights to commiserate with me and my father. Which was precisely why I frantically started texting nearly everybody whose contact number I had stored on my cellphone at dawn today, as soon as the newsflash of the old man's passing in Bern, Switzerland, popped up on my computer monitor from MyNewsGh.com, if fleeting memory serves me accurately.
For weeks and months after Uncle Kofi Atta Annan acceded to the pontifical post of UN Secretary-General in 1997, or thereabouts, I couldn't wait nearly every morning for the first New Yorker that I met on the street or the subway to ask me: "Where do you come from, young man?" in order for me to regally and deliberately answer, "Ghana!" Oh, no, not Guyana, that is in South America. "I mean Ghana, the same country that Kofi Annan, the United Nations' Secretary-General, comes from." And guess what? Mr. Annan and I were born on April 8 and just 30 miles apart. Mr. Annan was born in a city called Kumasi. Have you ever heard of the soccer club called "Kumasi Asante-Kotoko, the Porcupine-warriors"? That's in the same city where Kofi Annan was born. I was born in a much smaller township called Asante-Mampong. I guess, you could even say he and I were kindred souls.
*Visit my blog at: kwameokoampaahoofe.wordpress.com  Ghanaffairs