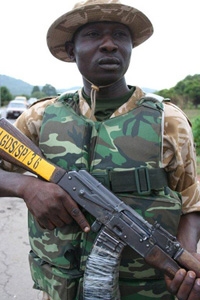 Two Nigerian soldiers were killed and five others seriously injured in a 19 January attack on a military detachment heading for deployment in Mali, as part of Nigeria's contribution to a UN-sanctioned African intervention force to reclaim northern Mali from Islamists, military officials told IRIN.
The soldiers, from a military unit based in the southern Nigerian city of Ibadan, were on their way to the town of Kachia in northern Kaduna State to prepare for deployment to Mali, when they were attacked near the city of Okene in central Kogi State, Nigerian army spokesman Maj-Gen Bola Koleoso told IRIN.
"We lost two soldiers to an attack by Boko Haram terrorists on a military convoy on its way to Kachia for a military drill in preparation for their deployment to Mali. Five other soldiers were badly injured in the attack. The terrorists detonated a high-calibre remote-controlled IED [improvised explosive device] they planted by the roadside as the military convoy was passing and opened fire on the soldiers," Koleoso said.
On 20 January the Islamist group Jama'atu Ansarul Musilimina Fi Biladis Sudan (JAMBS) – "Vanguard for the Aid of Muslims in Black Africa" – claimed responsibility for the attack, which it said was in response to Nigeria's participation in the military intervention in Mali. JAMBS splintered from Boko Haram in June 2012 and is believed by some to have close ties to Islamist groups in North Africa and Mali.
JAMBS claimed responsibility for the 19 December 2012 kidnapping of a French engineer near the northern city of Katsina on the border with Niger, and an attack in November on the headquarters of the Nigerian police Special Anti-Robbery Squad in the capital, Abuja.
Nigeria plans to send 1,200 troops to Mali as part of a 5,500-strong African-led International Support Mission to Mali (AFISMA) to oust Islamist groups from the north.
"We are gladly informing the general public, especially those in the black Africa, that…with the aid and guidance of Allah we have successfully executed our first attempt in griping [sic] the Nigerian army troops that aimed to demolish the Islamic empire of Mali," JAMBS said in an emailed statement written in poor English.
IRIN News
www.irinnews.org
aa/oa
Theme (s): Conflict, Security,
[This report does not necessarily reflect the views of the United Nations]