Under the theme: Inspire – Encourage – Act, the 2019 edition of the German International Supply Chain conference will debate, a number of issues including the shifting of the global political, social and economic landscape, as well as the dynamic development on the technological front.
These developments, according to the organizers, "need to be met with spirited action, inspiration and mutual encouragement – the central ideas behind this theme."
This is a call to action, an appeal to overcome German "angst" and to address economic, political and social challenges with courage and commitment.
"To inspire others in areas like digitalisation, new technology, human-machine interaction and new working time models. To actually put ideas into practice rather than just talking about them or finding reasons why everything is so difficult. In the era of lean production, our strategy was to try out new ideas, review the outcomes, optimise the parameters and go again.
"This strategy is as relevant today as it was then. Technology and IT are advancing so rapidly that looking on, waiting to see what happens or engaging in lengthy planning processes simply won't get the job done.
"At the same time, we must encourage people to tackle the challenges ahead, to commit to action, to enter new or uncharted territory, to take calculated risks, to press on and to persevere. We need to inspire each other to confidently showcase the logistics sector in all its diversity to the public at large.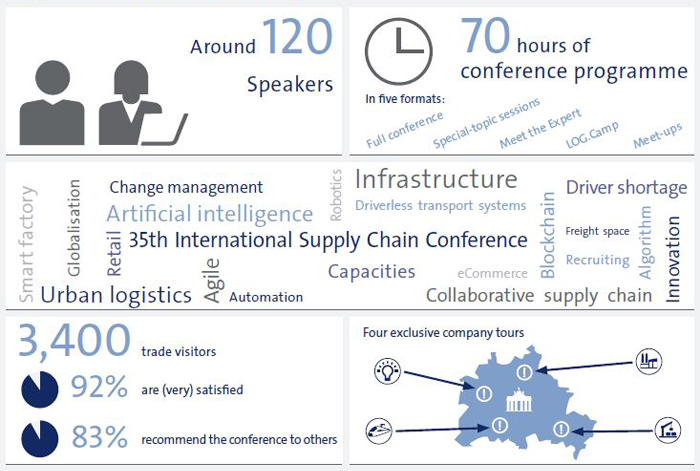 The great entrepreneur and innovator Henry Ford put it in a nutshell: "Most people spend more time and energy going around problems than in trying to solve them." Logistics managers are movers – movers of the economy. They roll up their sleeves and are aware of the necessity to become faster, more customer-focused and even more collaborative in future – and of the need to face up to technological challenges. With your participation and input from a wide range of further experts, this year's International Supply Chain Conference will provide the perfect setting for the informed, hands-on discussion of key current and future issues drawing on various real-world examples – as well as plenty of opportunity for networking and interaction, all geared towards the theme of "Inspire – Encourage – Act". 
Also among topics at the Conference include:
What Kind of Logistics Will Unlock the Economic Development of the African Continent?
Logistics in Africa is frequently analysed from an external perspective and therefore often perceived as totally inefficient. From an internal perspective, however, the development of logistics is in fact in tune with the rhythm of the continent. There is a rise in middle class spending capacity in an increasingly digital environment, and this is paving the way for new business models. The African continent definitely benefits from the experiences, perspectives and technology of developed countries, but customisation is needed to achieve efficiency – and this is something that has to come from within Africa.
This Africa-related topic will be examined by Erick Yong, Chief Executive Officer, GreenTec Capital GmbH, Frankfurt am Main
The Congress to be held in Berlin, the 36th in the series will take place from 23-25 October 2019.