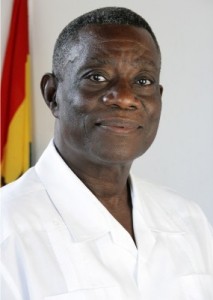 President John Evans Atta Mills has on the occasion of Ghana's 54th Independence Anniversary given his word to teachers across the country that Government will do nothing to discriminate against them.
Touching on the recent brouhaha over anomalies that characterized the migration of teachers onto the Single Spine Salary Structure, President Mills said the anomalies will be corrected soon.
"I would want to use this opportunity to assure our teachers that as a nation we appreciate their hard work and contribution to nation building. They are the once who are laying a solid foundation for the structures that the young men and women want to erect for their future growth and development. Our Government cannot short-change our teachers. We cannot do anything which will discriminate against our teachers.
"I would want to assure them that whatever anomalies that have come about as a result of our genuine attempt to migrate teachers onto the single spine salary structure are regrettable. And I can assure them that they will be corrected very soon" the President noted.
Some teachers had threatened to boycott the Independence Day parade as they disrupted final rehearsals ahead of Sunday's traditional event.
But whether the teachers carried out their threat or not, the 54th Independence Day parade was a huge success with over 2,000 students in attendance.
President Mills urged teachers and students alike to work hard and achieve more reminding them of the Government's Action year mantra. The 54th Independence Anniversary Celebration under the theme "Discipline and hard work, prerequisites for a Better Ghana, was uniquely organised with the country's youth taking total control of events at the Independence Square in Accra.
The event started with Muslim and Christian prayers from basic school students in Accra. The youth were also in charge of the band of the day and several other events.
President Mills, who was elated at the performance of the youth, said although the event more significantly pays tributes to gallant men and women who fought for the country's independence, Government will continue to dedicate such days to the youth of Ghana, who are the future leaders.
"The future belongs to you and on a day like this, it is right proper that we allow you to be part of it. Beyond our desire to build a better Ghana, discipline and hard work are the ingredients that are essential for nation building and your own personal development".
"It is through discipline and hard work that you can stay focus on your goals and be able to take advantage of the many opportunities that come your way, and be able to take over from us as leaders of our dear nation" the President said. Clearly, young men and women, it is because of your discipline and hard work that you have acquitted yourself so creditably this morning. I must say that I believe that this is a special day. The marching has been excellent. The Taekwondo display has also been wonderful and the dancing has been unique. I think that you deserve to congratulate yourselves for a job well done. I wish you and your instructors 'ayekoo' (congratulations)".
President Mills was optimistic that the youth of today, future leaders of tomorrow, will lead Ghana with a sense of direction and belongingness.
"This country of ours will not be destroyed from outside. Our dear nation will only be destroyed if we lose direction.
"You are the young men of today and the leaders and tomorrow, and I hope and pray that you will lead this nation with a sense of direction and belongingness".
"As a nation and Government, we will endeavour to do our utmost best to give you the facilities need to be able to develop your potential to the fullest. Today we are telling the story of this nation but your generation will be the one to tell the story for the next fifty four years. And I hope and pray that you will commit yourself to telling a bigger, better and happiest story".
President Mills cautioned against polarization through verbal and tribal violence in order to maintain a peaceful atmosphere for accelerated development.
"In unity lies strength. We can't be divided. We must not succumb to tribal violence because we are one people with a common destiny pursuing a common sense of purpose. This is the only country that we have and hope to work to leave this country stronger and better than we met it. And I believe that we are on course and we will not fail because God is on our side" he said.
citifmonline