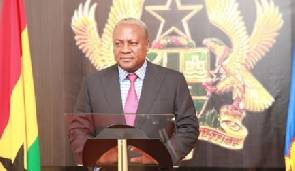 President John Mahama has once again appealed to the African Union (AU) to offer their unflinching support for Allan Kyerematen's candidature for the position of Director-General of the World Trade Organisation (WTO).
The President made the call when he addressed the Twentieth Ordinary Session of the Assembly of Heads of State and Government of the African Union; Addis Ababa, Ethiopia, on Sunday.
Government's decision to support Mr Kyeremanten was first announced by the late President John Evans Atta Mills during the African Union (AU) summit in Addis Ababa, Ethiopia, in January 2012. Mr Kyerematen, who also enjoyed enormous backing of President Mahama when he assumed office, was subsequently nominated for the WTO job by the AU at a meeting in Addis Ababa in July 2012.
President Mahama took the opportunity to express his "sincere gratitude and thanks" to his colleagues for their support graciously given for the candidature of Alan Kwadwo Kyerematen as Africa's candidate.
"I look forward to your continued support as he begins to go through the processes of selection associated with this strategic position. Fifty years after the formation of the OAU/AU, Africa is more than ready to lead this crucial world body through the much needed process of reform that will enhance Africa's prospects as an equal partner in the world trade system."
In December last year, the President also took advantage of the 7th Summit of the Heads of State and Governments of Africa, Caribbean and Pacific (ACP) countries in Malabo, Equatorial Guinea, to ask all to join Ghana support Mr Kyeremanten for the position.
Earlier in his address at the AU Summit, President Mahama paid glowing tribute to the founding fathers of the Union whose era he described as "the golden age of African liberation".
He remarked that the selflessness and exemplary courage which inspired the faith and optimism that gave birth to the OAU in May 1963 by the continent's heroes cannot be questioned.
"We who now wield the mantle of leadership on the continent are challenged by this 50th Anniversary to rise to up to occasion. With Africa's vast human and material resources as well as unprecedented access to technology, there is no reason why we cannot succeed if only we could muster the political will and seize the moment," he told the gathering.
President Mahama further remarked: "For, in spite of the highs and lows of the last few decades, there is still much to be thankful as well as hopeful for. We cannot remain entrapped in the grim episodes of our past. Nor must we allow our future to be overshadowed by the dire situations that persist in places such as Somalia, eastern DRC and lately Mali, among others.
"If we can recapture as a people the same spirit of selflessness and patriotism that brought us out of colonial domination, I have no doubt that the dreams that inspired the heroic pioneers of independence and development will surely materialize in a generation."
Joy online