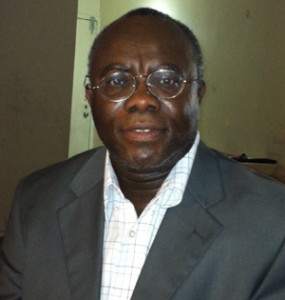 The last time that I was compelled to rejoin his running pedestrian brand of foolery, I admonished the children – if he has any – and, in fact, the entire Kpegah clan, to lock up their motor-mouth patriarch before he irreparably made a mess of whatever might be left of his professional reputation as a former Acting Chief Justice of the Supreme Court of Ghana. And so, really, I was quite chagrined to learn that the grizzled civet cat had, once again, been let out of the bag, as it were, and was about his usual ungodly business of playing a no-brainer mischief with the hard-earned reputation and integrity of Ghana's main political opposition leader, Nana Addo Dankwa Akufo-Addo (See "Ignore Kpegah's Infantile Nonsense, Akufo-Addo's Integrity Is Indestructible – Kweku Baako" MyJoyOnline.com 3/20/13).
I would not go out on a limb to assert that the reputation and integrity of any human being is "indestructible," in the manner poignantly observed by the editor-publisher of the New Crusading Guide, Mr. Malik Kweku Baako; but I would bluntly reiterate the old Akan adage that "When you carve yourself a niche far greater than that of your neighbor, s/he tends to resent you" for the same. It is amusingly obvious that Mr. Francis Kpegah, the voluntarily retired Supreme Court judge, cannot abide the fact that the former New Patriotic Party Member of Parliament for Akyem-Abuakwa South, had served as Attorney-General and Minister of Justice and, in effect, Mr. Kpegah's boss during the Kufuor era.
We know this for a fact, because the Akufo-Addo baiter recently complained bitterly that he found it nearly impossible to believe that his arch-nemesis had been named to the cardinal cabinet post of Justice Minister. Refreshingly, and as was to be expected, former President John Agyekum-Kufuor promptly hit back by assuring Mr. Kpegah that if he had the opportunity to be named premier, once more, he would have absolutely no qualms, whatsoever, in reappointing Nana Akufo-Addo to his old post.
Now, what kind of political defense could be more solid than one coming from one's own former boss and one who has distinguished himself, hands down, as unarguably the greatest President of Ghana's Fourth Republic?
Needless to say, the epic absurdity inherent in Mr. Kpegah's decision to sue Nana Akufo-Addo for impersonation is only matched by the unpardonably presumptuous guff unleashed by another Trokosi writer, Mr. Daniel Pryce, who recently had the temerity to claim that Mr. Kpegah's clinical lunacy was perfectly in synch with the general intellectual orientation of the Trokosi Nationalists, and that rather than its being back-handedly and promptly parried off, Mr. Kpegah's criminally defamatory suit ought to be afforded the proverbial benefit of the doubt, because it well appeared to be gravid with merit.
What also amused me to no end was, of course, Mr. Pryce's nauseatingly lurid assertion (published in the "Comments" forum attached to his article on Ghanaweb.com) that in shamelessly joining cause with the politically disgruntled and NDC-sidelined Hohoe denizen, he, Mr. Pryce, was actually doing Nana Akufo-Addo the rare favor of granting the latter the prime privilege of publicly indemnifying himself of a charge the onus of which clearly and squarely rested in the proverbial court of Mr. Kpegah, the accuser, himself! Now, this is what I call warped Trokosi Logic.
The fact of the matter is that if Mr. Kpegah truly believes Nana Akufo-Addo to be impersonating another licensed and/or certified Ghanaian legal practitioner other than himself, hypothetically assuming that, indeed, there is any such thing as "self-impersonation," then all that the accuser needs to do is to simply produce the Real McCoy whom Nana Akufo-Addo has apparently been so successfully impersonating for some 42 years, or so, or be prepared to be counter-sued for heavy damages, including punitive damages, of course.
Personally, I believe a charitable Nana Akufo-Addo is more apt to recommend Mr. Kpegah for prompt psychiatric examination and treatment, than insensitively deign to engage the latter at such an intellectually and morally abject level of legal and/or judicial disputation. Liberating Ghana from Ali Baba and his forty felonious scam-artists has greater priority presently.
Kwame Okoampa-Ahoofe, Jr., Ph.D. Department of English Nassau Community College of SUNY Garden City, New York
The opinions expressed are the author's and do not necessarily reflect the views or have the endorsement of the Editorial Board of www.africanewsanalysis.com and www.africa-forum.net