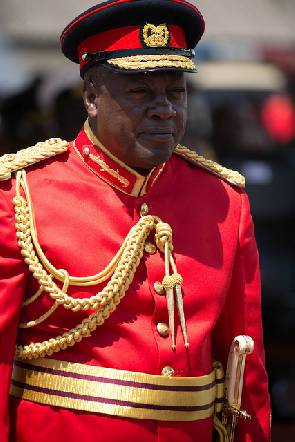 A couple of weeks, or so, ago when he donned his non-constitutionally authorized army general's ceremonial uniform, a remarkable number of eyebrows were raised by both media wags and legal mavens. Some might have even found it to be a bit amusing. But for me, knowing the architectural and anatomical history of the National Democratic Congress (NDC), in particular the dictatorial tendencies that it has always exhibited and stood for, beginning with the party's founding-father, Chairman Jerry John Rawlings, and the party's institutional antecedents, namely, the extortionate Provisional National Defense Council (PNDC) regime, and before the latter, the indescribably bloody Armed Forces Revolutionary Council (AFRC), that once summarily executed some 8 former military rulers within a period of less than one month, for crimes for which the self-righteous and pontifical Rawlings Posse turned out to deserve a punishment at least three times more than that which was meted Generals F.W.K. Akuffo, I.K. Acheampong, Odartey-Willington and A.A. Afrifa, as well as Commanders Utuka and Amedume and Air-Vice Marshall Yaw Boakye and Col. Roger .J.A. Felli, Mr. Mahama's donning of the military uniform could only point to one thing: our democratically elected civilian Commander-in-Chief of the Ghana Armed Forces' acute desperation to be undeservedly retained at the Flagstaff House for a second term of office.
It may be significantly recalled that at least since 2008, the former Rawlings Communications Minister and notoriously reckless architect of what came to be widely known as "Shit-Bombing" has brazenly exhibited dictatorial tendencies which, as was to be bizarrely expected, his most formidable political opponents, characteristically smug and naively assured of retaining power, even amidst serious internal strife that clearly did not augur well for their presidential candidate, had either stolidly failed to take note of or simply ignored, for reasons best known to themselves. Back then, vigorously campaigning to unseat the then-ruling New Patriotic Party (NPP) in his Gonja homeland, the Chief Architect of Shit-Bombing had picturesquely likened the country to a donkey from whose saddle the Rawlings Posse had been abruptly bumped and now found themselves mercilessly buffeted by arid sandy blasts. Back then, the Shit-Bombing Architect had also vowed that if his party was able to remount the saddle of the metaphorical Ghanaian donkey, short of divine intervention, they intended to hole themselves up in the Flagstaff House Till Kingdom Come.
Again, on the stumps in 2012, the Shit-Bomber would curiously insist that Ghana's 1992 Republican Constitution entitled every elected president to two consecutive terms in office, which all Ghanaian voters were obliged to observe. As to why he has never been publicly and frontally challenged on this grossly capricious misreading, and misinterpretation, of our Fourth-Republican Constitution staggers the imagination. Maybe the Shit-Bomber's main rivals and political opponents thought this smooth-operating megalomaniac was simply jiving. If so, then it goes without saying that the morbidly staid law-and-order Akufo-Addo Campaign operatives have themselves to blame.
Indeed, when Mr. "Kaakaamotobi" Mahama (my profuse apologies to Dr. Mahamudu Bawumia) donned his constitutionally unwarranted Commander-in-Chief's uniform, I knew then and there that the next step would be the vicious clamping down of the media by the government of the so-called National Democratic Congress. Not quite long before, the Shit-Bomber's Army Chief-of-Staff and the Inspector-General of Police, for example, had publicly signaled their intention to indiscriminately clamp down on social media networks on the eve of the 2016 general election, a patently wrongheaded and civically dangerous move that was sharply and promptly condemned by UN Secretary-General Ban-Ki Moon, speaking through his regional adviser and representative, Dr. Mohammed Ibn Chambas.
Well, Friday night's "kidnapping" of the firebrand and verbally trenchant Lebanese-Ghanaian journalist and pilot, Mr. Faddi Dabbousi, at the Kotoka International Airport (KIA), by operatives of the Bureau of National Investigations (BNI), Ghana's equivalent of the U.S. Federal Bureau of Investigations (FBI), was no sheer happenstance. Mr. Dabbousi is reported to have just returned from a trip abroad when he was picked by some BNI operatives without any questions. If the preceding report has validity, then President Mahama had better be stopped in his tracks before unsuspecting Ghanaians soon find themselves to have been plunged into another excruciating and protracted and nightmarish "democratic" reign-of-terror for the foreseeable future.
*Visit my blog at: kwameokoampaahoofe.wordpress.com  Ghanaffairs
The opinions expressed are the author's and do not necessarily reflect the views or have the endorsement of the Editorial Board of www.africanewsanalysis.com, www.africa-forum.net and www.wapsfeatures.wordpress.com