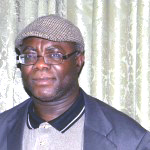 At the launching of a so-called Ghana Urban Development Project in the Volta Region, Vice-President John Dramani "Sledgehammer" Mahama is reported to have told his audience that according a second term to the Mills administration would be in order, because both former Presidents Jerry John Rawlings and John Agyekum-Kufuor, each, served two terms in office (See "Rawlings & Kufuor Got 8 yrs; Mills Deserves 8 Too – Veep" PeacefmOnline.com 5/8/12).
The basis of such utterly infantile and downright ludicrous argument, we are told, is to ensure that President Mills accumulates ample time in office in order to facilitate a fair comparative assessment of his performance with his two Fourth-Republican predecessors.
You see, the problem with this sort of argument is that it lacks both intellectual depth and moral breadth. It strikingly echoes the argument of my 4-year-old son, Papa Yaw Sintim-Aboagye, when I decided to purchase a baby violin for his 6-year-old brother, Nana Kwame Okoampa-Agyeman III, who had remarkably demonstrated a virtuosic aptitude for that instrument and was already taking violin lessons in their school. "Daddy, me too; I need a violin," Papa Sintim jealously chirped.
Incidentally, Papa Sintim also has a quite remarkable musical aptitude, but his is in the percussive sub-genre of the drum, the bongo drum, to be exact. Anyway, as hard and deliberate as I tried to convince my maternal grandfather incarnate that the spirit of his musical genius inhered in the drum, the poor, little old man would not budge. In the end, though, I had to follow both my conscience and his talent by buying him a set of bongos from ToysRUs.
I don't know whether Vice-President "Sledgehammer" Mahama presumes any peremptory right to casually insult the intelligence of Ghanaian voters, else he could have begun his argument by cataloging concrete examples of the indisputable achievements of the Mills administration that he firmly believes rival the well-known and recognized achievements of Messrs. Rawlings and Kufuor.
Insofar as the Volta Region is concerned, I can only think of the ill-fated Aveyime Rice Project, in which Uncle Tarkwa-Atta deemed it to be far more productive to literally handover the whopping sum of $ 20 million to Ms. Juliet Cotton, the notorious Georgia-resident African-American welfare recipient who suavely conned her way into the awarding of the Aveyime Rice Project contract, than ceding the same to the farmers of the region.
Or maybe, Mr. "Sledgehammer" Mahama presumes the august presidency of Fourth-Republican Ghana to be a facile intellectual exercise whose endgame, rather than being primarily and squarely about the palpable improvement in the livelihood and the general material condition of the people, simply becomes a personality contest among the privileged few.
And, while we are still in the Volta Region, perhaps it bears reminding the proverbial NDC world bankers that, to-date, the single most impressive achievement of the Mills-Mahama government is the fraudulent awarding of the GHC 52 million judgment-debt bonanza to Mr. Alfred Agbesi "Gorgormi" Woyome. But as to whether this epic heist by one man on behalf of the ruling National Democratic Congress, including President John Evans Atta-Mills who is forensically alleged to have personally authorized the same, qualifies to be confidently chalked off as one of the significant achievements of the current administration, is a question that ought to be resoundingly determined by the Ghanaian electorate on December 7, 2012, not from the bloody and "shit-bombing" lips of a man who would rather swat a fly with a sledgehammer than spray the poor little critter with an insecticide.
Then also, whether an empty turf of wild grass decorated with an elaborate signpost claiming the same to be the Volta University of Health and Allied Sciences, qualifies Messrs. Mills and Mahama for a second presidential tenure, would likely be determined on December 7, 2012.
At any rate, other than rather cheaply seeking to pander to the Volta electorate, in the wake of the triumphant conference between the presidential candidate of the New Patriotic Party (NPP) and the venerable members of the Volta Regional House of Chiefs, it is not clear precisely why the Vice-President chose this particular moment and then the Volta Region, rather than, say, his own development-famished Northern Region, to launch his so-called Ghana Urban Development Project.
Needless to say, I may have a slew of differences with some Voltaians, particularly the rabidly anti-Akan murderous Mafia scumbags among them; but anybody who presumes to pull a proverbial fast one at my alienated kinsmen and clanswomen on the cheap, may well be committing an electoral suicide.
Kwame Okoampa-Ahoofe, Jr., Ph.D., is Associate Professor of English, Journalism and Creative Writing at Nassau Community College of the State University of New York, Garden City. He is Director of The Sintim-Aboagye Center for Politics and Culture and author of "Dr. J. B. Danquah: Architect of Modern Ghana."
E-mail: okoampaahoofe@optimum.net

The opinions expressed are the author's and do not necessarily reflect the views or have the endorsement of the Editorial Board of www.africanewsanalysis.com and www.africa-forum.net