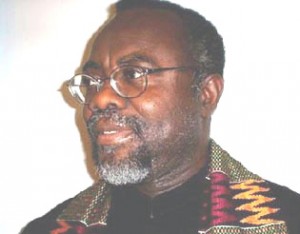 I hope it was not Dr. Kwadwo Afari-Gyan who said that inducing a well-policed environment in order for elections and by-elections to peacefully take place is not part of the job description, or mandate, of the Electoral Commission (EC) – (See "Dan Botwe: Ghana Is Sitting On A Time-Bomb" Peacefmonline.com 9/1/10). And seriously, it doesn't really matter if even it was the EC chief who made such rather professionally irresponsible remark.
What matters is the bewildering fact of anybody connected with the EC presuming to self-righteously trivialize the imperative need for electoral security. In other words, if any personnel affiliated with the EC finds it to be too abstruse or cognitively difficult to recognize the stark fact that polling outcomes, or results, have absolutely no intrinsic value unless they are also inextricably linked with the local climate, or circumstances, under which they were held, then, perhaps, we had better return to the Darwinian days of Kangaroo leaders like Mr. Jeremiah John Rawlings, when the barrel of an AK-47 assault rifle did all the talking and decision-making.
Still, unlike Mr. Botwe, I don't exactly believe that Ghana is sitting on a "timed-bomb." What I believe is that electoral violence as an equal- opportunity resort may actually be auspicious for the short-term development of Ghanaian democracy. Now, let me quickly explain just what I mean. In essence, what I am fundamentally implying is that unless the pathological promoters of electoral violence and raw intimidation in the so-called National Democratic Congress (NDC) are given the proverbial run for their money, Ghana's political culture would perennially remain hobbled and stultified, with only one of the two major ideological camps calling the shots, as the NDC appears to have done over the past three decades.
Now, let's get this straight and right off the bat: the most sensible method by which to tame a pit-bull does not include timidly offering this feral quadruped prime pre-packaged dog food; rather it involves a physical confrontation with this most savage of domesticated canines whereby no chance, whatsoever, is spared by taking a sledge-hammer to its poisonous muzzle and guaranteeing, at once, that the barest minimum of damage becomes toothlessness. This is what the seemingly pathologically staid, placid and near-pusillanimous membership of the now-opposition New Patriotic Party (NPP) has not been able to do in the past. And this is precisely why the shameless NDC hawks are apt to dominate Ghana's political landscape for the foreseeable future.
You see, like Mr. Rawlings, the entire membership of the NDC, with hardly any significant exceptions, is composed of craven bullies who feed fat and voraciously on any signs of anxiety and diffidence publicly exhibited by the Danquah-Busia cohorts. This aspect of NDC cowardliness can be vividly seen in the crude and timid manner in which the Atta-Mills government has, so far, approached the raging Ivorian electoral stalemate. The NPP, on the other hand, prefers to talk tough in the full and approving glare of the so-called International Community, thereby appearing tragically comical to those of us who badly crave the salutary prevalence of unfettered electoral access and the free expression of our human and civil right to our inalienable self-determination.
As matters stand right now, it shamefully appears as if since 2008 the NPP has decided to let the NDC "Thuggocrats," once again, hijack and flagrantly bastardize Ghanaian democracy. Which was why we recently witnessed Mr. Rawlings, lapped luridly at the heels by the unconscionable likes of the Accra mayor, light the eternal torch in celebration of his December 31, 1981 massacre of the innocents and criminal breach of Ghana's elective political culture.
Interestingly, the same piranha that promised fire-and-brimstone to Ghanaians in the lead-up to Election 2008, in the event of the NDC failing to clinch the reins of governance, is now talking "popishly" about peaceful resolution of the Ivorian conflict. Of course, those of us who have been studiously monitoring the rants and grunts and fatuous gripes of this "stomach revolutionary" and clinical kleptocrat and dog-house hero appreciate something about the signal significance and impact of "certain probabilities." I am no F. K. A. Allotey, of course, but let me still put it this way – and it regards the fact that Togbui Avaklasu Rawlings seems to be at least smart enough to recognize the fact that the Ivorian stalemate is no play-toy for the "Charles Kaylay"-whacking and twacking Azorka boys. And it is this same behemoth political stalemate that ought to be induced in the psyches of the NDC thugs and terror-mongers come Election 2012.
And on the preceding note, I solemnly call on my dear brother Daniel Danquah-Damptey to stop his cry-baby whining stance of risibly pleading with the deftly and mischievously urbane Vice-President John Dramane Mahama to, somehow, bizarrely come to the rescue of Nana Addo Dankwa Akufo-Addo by playing Ghana's Surgeon-General and Peremptory Certifier of Cociane-Free Politicos. I mean, isn't it crystal-clear to Mr. Danquah-Damptey that "Tofiakwa" or "No-Tofiakwa," the NDC cabinet has at least one deputy minister who used to be the certified pimp and senior consultant to a Venezuelan cocaine-cartel fugitive? Talk of kettle and pot!
By Kwame Okoampa-Ahoofe, Jr., Ph.D.
Kwame Okoampa-Ahoofe, Jr., Ph.D., is Associate Professor of English, Journalism and Creative Writing at Nassau Community College of the State University of New York, Garden City. He is a Governing Board Member of the Accra-based Danquah Institute (DI) and the author of "Ghanaian Politics Today" (Atumpan Publications/Lulu.com, 2008).
E-mail:
This article was written by Kwame Okoampa-Ahoofe, Jr., Ph.D. The opinions expressed and arguments employed herein are those of the author`s,  and do not necessarily reflect the official views or have the endorsement of the Editorial Board of AfricaNewsAnalysis.