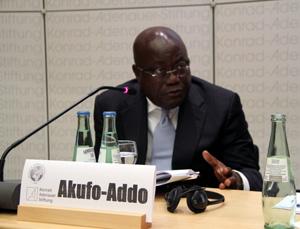 The presidential candidate of the New Patriotic Party (NPP) for the 2012 elections, Nana Addo Dankwa Akufo Addo has vowed to carry out his policy of fee-free education in Ghana should he win the elections in December.
The NPP flag-bearer, whose passion for education knows no bounds stressed that "if good health is basic to our survival, good education is critical to our development."
Nana Akufo Addo observed that education was at the heart of his party's programme adding that "we cannot transform the economy and the country without transforming the knowlwdgw and skills of our people.
"Every child, rich or poor, able-bodied or disabled, deserves a good education."
An Akufo Addo administration, he said, would redefine basic education and make it compulsory from kindergarten to Senior High School, adding that he "will remove" the biggest obstacles that stand in the way of education, namely, access to secondary education.
Quoting an Ewe saying that "you cook important foods in important pots", Nana Akufo Addo observed that "the cost of providing free secondary school education will be cheaper than the cost of the current alternative of a largely uneducated and unskilled workforce that retards our development".
Leadership, he said, was about choices adding "I will choose to invest in the future of our youth and of our country."
The following are excerpts from Nana Akufo Addo's address at the Institute of Economic Affairs in Accra:
…I know numbers can be boring, but these are important numbers. The additional cost of providing Free Senior High School will be around 1% of Ghana's GDP. The cost of providing free secondary school education, which includes tuition, boarding, feeding and all the other charges for the 2013-2014 academic year, is estimated at 0.1% of our GDP. This translates into some GH cedi 78 million.
…We have nade provision for a major increase in enrolment as a result of admitting all JHS students into SHS in 2014-2015. We expect the cost to rise to GH cedi 288 million (0.3% of GDP) in that academic year and increase to GH cedi 774 million in 2015.2016 (0.7% of GDP).
…Additional expenditure on more teachers, infrastructure for schools, including expanding and rehabilitating existing infrastructure, and establishing cluster schools in areas where there are no Senior High Schools, will bring the total cost to GH cedi 755 million (0.9% of GDP) in 2013 and rise to GH cedi 1.45 billion (1.3% of GDP) in 2016. Providing free secondary education will increase the total educational expenditure from the 4.1% of GDP in 2012 to 5.8% by 2016, a figure which is still below the UNESCO minimum of 6%. I am prepared to go beyond that in order to improve quality at all levels – Primary, JHS, SHS, and Tertiary.
…Countries that have taken deliberate, successful steps to improve their economies have spent substantial amounts of their national income on education. For example, in 1960, during its post-war transformation, Japan spent 21.4% of its GDP on education and Malaysia, at an equivalent period in 1990, spent 15.3% of its GDP. On our continent, a number of African countries are doing better than us. Kenya spends 6.7% of its GDP on education, South Africa 6% and even tiny Lesotho puts us to shame by spending 13% of its GDP on education. We may be able to beat them at football, but not in education.