President Christian Wulff of Germany Tuesday received the Japanese Crown Prince Naruhito at Castle Bellevue in Berlin.
After signing the Official Guest Book, Crown Prince Naruhito and President Wulff held an hour of talks behind closed doors. The discussions were believed to centre on bilateral relations between their two countries.
President Wulff informed his Japanese guest about the feelings of sympathy by the people of Germany for the Japanese people following the earthquake and tsumani in Japan.
He expressed appreciation to the Crown Prince for accepting his invitation to Germany despite the catastrophe that befell his country, Japan.
"It is a great honour for us that His Royal Highness could visit us despite the current difficult situation in Japan. We are both patrons of the activities '150 Years of Friendship – Germany and Japan'. This long and close friendship demonstrates itself also and especially in difficult times. Japan is our honoured partner in Asia," stressed President Wulff.
During his brief visit to Castle Bellevue, Crown Prince Naruhito and President Wulff planted a Japanese Cherry tree to symbolise the closeness and deep friendship between Japan and Germany.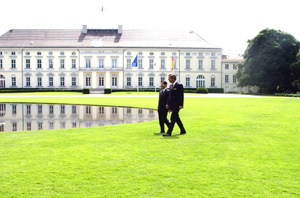 Germany and Japan have traditionally enjoyed friendly bilateral relations over the past decades.
Co-operation between the two leading industrialised countries, both members of the G8, have intensified, particularly in foreign policy.
Crown Prince Naruhito's visit, it is believed, was to give added impetus to activities already underway since 2010 to mark the 150th anniversary of the establishment of diplomatic relations between Germany and Japan, an occasion that is being celebrated with a host of events in both countries.
As G8 members, Germany and Japan have shared values and are linked by political, economic and social ties as well as by friendship. The two countries work closely together as partners assuming global responsibility.
Among the areas of intense co-operation between the two countries are issues such as climate protection, topics relating to disarmament and non-proliferation as well as the situation in Afghanistan and on UN Security Council reform.
By Mellisa Sheridan, ANA Diplomatic Correspondent &
Musah Ibrahim Musah