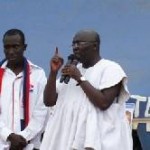 Dr. Mahamudu Bawumia, 2012 Vice Presidential Candidate of the New Patriotic Party, says the party's free secondary education policy is non-negotiable as Ghana cannot develop and become a modern society without a largely educated workforce.
Dr. Bawumia made this statement at Chuchuliga in the Builsa North constituency on Friday on his 5th day of his seven day Upper East tour.
Addressing the Chiefs and elders of Chuchuliga at the Chuchuliga palace, Dr. Bawumia said "we want to build a resilient, modern and industrialized economy and this dream cannot be achieved with a largely uneducated workforce and this why education is key. Today money has become a barrier to secondary education. Today parents have to pay GH¢500, GH¢600 and GH¢700 and in the event that one has two or three children at the secondary school level then this can really be a nightmare.
This is why under a Nana Akufo-Addo administration, we would make secondary education free and that is not a negotiable issue, for us it is non-negotiable. We can no longer tolerate the sight of thousands of our children being denied secondary education because of money."
Dr. Bawumia indicated that that the NPP was committed to prioritizing education and devoting all the necessary resources into building the necessary skilled and educated populace in furtherance of the pursuit of building a modern society. He noted that among the plans of the NPP was to increase the number of secondary schools to support the free SHS programme.
"We are not only going to make SHS free but we are also going to increase the number of secondary schools, 350 new secondary schools in total, and quite a number of these new schools would be in the three northern regions which lack some of these facilities already. We also are placing emphasis on the quality of education and that is why we are hinging our educational programme on the 'Teacher first' policy, motivating the teachers to ensure that they can deliver the right quality education to our children," he said.
Dr. Bawumia said that the NPP had credible policies and programmes which would lead to an improvement in the lives of the people and urged the chiefs and people of Chuchuliga and Builsa North to elect the NPP Parliamentary candidate for the area, Agnes Chigabathia to support Nana Akufo-Addo in government.
Kojo Smith