UN wants to harness the power of sports to bring positive change and promote peace
Yesterday the world celebrated the first ever International Day of Sports for Development and Peace. Sport is seen as an important tool to achieve the Millennium Development Goals (MDGs) in Africa. It builds self-confidence; empowers youth and promotes good health.
Football is the most popular sport in Africa. With millions of fans and youngsters aspiring to be the next Samuel Eto'o or Emmanuel Adebayor, African football stars can have a tremendous influence, especially on children, since they are their role models. Many of them are taking that responsibility seriously and are using their status and wealth to better the lives of those less fortunate.
Ivorian striker Didier Drogba, for example, joined football legends Ronaldo and Zinédine Zidane as a goodwill ambassador for the United Nations Development Programme (UNDP), in addition to his own charity work and scoring against malaria.
"The observance of the day will help spread awareness about the importance of sport as a tool to build a peaceful and better world. It is also an opportunity to unite and celebrate together," says Drogba on behalf of the UNDP team.
Sport belongs to everyone and has a common international language. "Six of our nine goodwill ambassadors are sport champions," says UNDP press officer Aziyadé Poltier-Mutal. "They weren't born rich and came from disadvantage backgrounds. People can relate to them."
Ahead of the 2010 World Cup in South Africa, Drogba launched Kick out Poverty with French-Algerian football icon Zidane, a TV spot and social media campaign appealing to the public to join the global team to achieve the eight UN development goals. He also took part in an UN-backed fair elections campaign in the Democratic Republic of Congo, urging voters (in French and Kingali) to "register, vote, and be heard."
Nelson Mandela, himself a boxer in his youth, believed in the transformative power of sports and used it to fight apartheid and unify his nation. "Sport has the power to change the world," he famously said in a 2000 speech. "It has the power to inspire. It has the power to unite people in a way that little else does. It speaks to youth in a language they understand. Sport can create hope where once there was only despair."
Ivorian Football Rebel
Few athletes are as familiar with the transcendent power of sports as Didier Drogba. After the former FC Chelsea forward helped the Ivorian Elephants qualify for the 2006 World Cup, he challenged President Gbagbo to end the civil war. He made a desperate plea to the combatants, asking them to lay down their arms, a plea which was answered with a ceasefire after five years of civil war.
Drogba was featured in the first episode of Football Rebels, a documentary series aired in 2013 on Al Jazeera television (watch 3-minute episode promo). Presented and narrated by French Manchester United star Eric Cantona, the documentary tells the stories of five football legends whose social conscience led them to use their fame and influence to challenge unjust regimes, join opposition movements and lead the fight for democracy and human rights in their countries.
"I left Côte d'Ivoire with a certain image: It was beautiful, its streets were lovely, there was greenery everywhere and people were happy. And when I came back a few years later, I saw a real change. That's when I started asking myself questions," Drogba says in the film.
Refusing to ignore the turmoil, he and his teammates decided to act. Says Drogba: "Inside, we wanted all that stuff to stop. When you play a match and you're surrounded by rocket-launchers … We wanted to play in a more relaxed atmosphere again. So after that game, we were euphoric, and someone whispered in my ear that it was the right time to put out a message. Then we just improvised."
King George serves Liberia
Liberian soccer legend and former Lone Star captain George Weah was at the height of his career when his country was being ravaged by a brutal civil war that left hundreds of thousands dead.
"When I was on the field, for 90 minutes I tried to uphold the positive image of Liberia. After the match, I would go home and it was like my whole world was crumbling," remembers Weah in a recent CCTV Faces of Africa documentary produced by Nairobi based A24media. (Watch full 30-minute episode)
The documentary retraces Weah's inspiring journey from growing up and playing barefoot football in a slum to the top flight of European football. In 1995, while playing with AC Milan, he won the Ballon d'Or and was named FIFA World Player of the Year, becoming the only African player to win the title.
But being Liberia's proudest export did not make him untouchable. In 1996, just a few days after Weah publicly suggested that the United Nations intervene in Liberia, militias raided his home in Monrovia and raped relatives. Nevertheless, he came back and used his personal fortune to finance and coach Liberia's national team, paying for chartered flights and all expenses.
"What's most stunning about King George is his unshakeable determination to make a positive contribution to Liberia despite having experienced personal tragedy within the country," said A24media film producer Jazzmin Jiwa. "Instead he threw himself into helping in whatever way he could, through sport, through education and through politics. He is driven by empathy, a humanitarian spirit, a doggedly ambitious nature, the potential he believes the country has and his faith in the Liberian people."
Weah, who became UNICEF ambassador in 1997, has worked to help to fight the spread of HIV/AIDS, to kick polio out of Africa, to promote vocational training and to rehabilitate child soldiers. His humanitarian and grass-roots philanthropic work prompted former South African president Nelson Mandela to call him "Africa's Pride."
After his retirement, Weah decided to go into politics, but his attempts in the run for president in 2005 and vice-presidency in 2011 failed. A year later, President Ellen Johnson-Sirleaf appointed her political opponent to serve as Liberia's peace ambassador. At the kick-start ceremony for the national roadmap to reconciliation last June, Weah said his role was to bring all the players and actors together.
"Without peace civilization will not exist, with peace, there is stability, there is growth; peace is an ongoing thing it is important for our generation and the generations to come. My part as a Liberian is to promote peace through football," he said.
Giving play a chance
Weah and fellow retired Lone Star players are now teaming up with the international organization Right-to-Play to promote peace and tolerance and play friendly matches with local county teams across the country. Right to Play has been training since 2006 volunteer coaches in Liberia to run sport and play programs to provide marginalized and war-affected youth with life skills and outlets to help heal the emotional wounds of conflict. (See Journey to Liberia video clip)
Founded by Olympic gold medalist and speed skater Johann Olav Koss, the Canada based NGO aims to empower children and create a healthy and safe world through the power of sports and the life lessons it can teach. For example, a soccer match can teach children about both teamwork and gender equality, when girls and boys play on the same side, but only females are allowed to score. A "mosquito tag" game can educate about the dangers of malaria.
Responding to the needs of their communities, the local coaches implement play-based learning activities and become role models and mentors. To create change with a lasting impact, Right To Play mobilizes entire communities by cooperating with local organizations, parents, teachers and volunteers. The charity is supported by a network of more than 300 professional and Olympic athletes from more than 40 countries, including Zambian soccer legend Kalusha Bwalya and Ghana Black Stars player Michael Essien (AC Milan).
Essien, for instance, hosted a community sports day in 2010 in his hometown of Awutu Breku. Organized in partnership with Chelsea FC and the Michael Essien Foundation, the event involved a sports tournament for 500 children; games and the launch of the Reading Goals literacy initiative. Reading Goals is a series of books, published with the help of Pearson Education and the Ministry of Education, based on the popular footballer's life and career. 90,000 books were distributed to elementary schools in Ghana to inculcate reading habit in pupils.
AU Peace Ambassador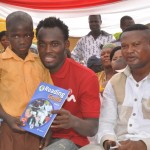 "My personal football role models were the former greats of African football like George Weah, Tony Yeboah, Abedi Pele and my best friend Stephen Appiah. Their stories of hard work leading to great achievements inspired me to go on and make it all the way to the top," said 31-year-old Essien, who was named African Union peace ambassador in 2010.
He says he was proud to have been appointed AU peace ambassador to use his experience and influence to help bring peace to Africa and the world. In 2011, he invited African football's living legends and active stars to participate in a charity match in Ghana's capital Accra to raise funds for peace initiatives across Africa. Dubbed Africa XI against World XI the match took place on May 25, the Africa Union Day.
"I can only play a small part but hopefully that will be enough to change a heart or two and promote peace. Apart from the Peace Game in 2011, I will continue to use various platforms to spread the peace message where I can," he said.
Among others, Essien is using social media to reach out to his fan community around the world. In support of the first International Day of Sports for Development and Peace and White Card campaign, he posted on April 6 a photo holding a white card and messages on Facebook and Twitter.
"Today is @UN Int. day of Sport for Dev and Peace. Do one peaceful thing today!"