Zambia was once again on the agenda at the prestigious German-Africa association during a two-day brainstorming session on potential areas for investment in the southern African country.
The two-day session, first in Cologne and then in Berlin was attended by ranking mandarins from politics, business executives from Germany and Zambia as well as representatives of the media.
Addressing the session dubbed "Business Day Zambia" in Berlin, Hans-Joachim Otto, Parliamentary State Secretary in the Federal Ministry of Economics and Technology announced that the Government of Federal Republic of Germany would soon introduce its "Africa Concept" in which it would outline its commitment to increase and deepen its cooperation with Africa.
He said Africa has a great promise and potential and is making a great leap forward economically posting strong levels of development in various fields of endeavour.
The State Secretary stressed his government's commitment to support Zambia's economic efforts to boost its prosperity.
He said a great deal of mutual potential between the two countries remain to be tapped and urged African countries to endeavour to "spread" information on investment potentials in their countries.
The Zambian Minister of Tourism, Hon. Cathering Namugala, said the Zambian government has adopted a policy of zero tolerance on corruption adding that a free press was one of the pre-requisites for fighting corruption.
The government has realised the capacity of the private sector to drive the economy and that it was committed to continuous growth with the Private sector in the driving seat, said Hon. Namugala, who is also responsible for Environment and Natural Resources.
Earlier in his welcome remarks, Wolfgang Knörle, Vice President of the German-Africa association urged German companies to take advantage of the vast investment opportunities in Africa.
Mr Knörle, who is also Head of Division Banknotes and Security Printing at Giesecke & Devrient GmbH, observed that the Federal Republic of Germany "is a Partner for Africa on long term basis".
He called for momentum on both sides to strive for a "win-win situation" in the investment sector.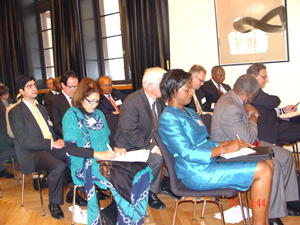 Speaking at the Keynote Session of the conference, the German Ambassador to Zambia, His Excellency Mr Frank Meyke dilated on Zambia's immense potential.
Ambassador Meyke told the assembled dignitaries that Zambia boasts 40% of all water resources in Southern Africa adding that "its business environment is one of the best in sub-Saharan Africa."
Trade relations between the Federal Republic of Germany and the Republic of Zambia are relatively low. In 2010, German imports from Zambia were worth 18.5 million euro in total. In the same year, Germany exports to Zambia totalled approximately 29.4 million euro.
There is keen interest in German products in Zambia particularly motor vehicles, mechanical engineering and chemical products which are highly regarded.
Currently, the following bilateral economic agreements have been signed between the two countries: Agreement of 10th December 1966 on the promotion and protection of investments; Double taxation agreement signed on 30th May 1975 and an Air transport agreement of 22nd October 1996.
Musah Ibrahim Musah & Melissa Sheridan in Berlin