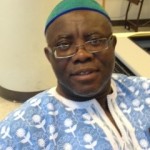 This is not the very first time that National Democratic Congress (NDC) laywer Mr. Abraham Amaliba has given a cogent reason why the choice of Nana Addo Dankwa Akufo-Addo as the presumptive flagbearer of the New Patriotic Party (NPP) for Election 2016 could not be more astute. According to the NDC communications hack, Mr. Alan John Kwadwo "Quitman" Kyerematen offers a better chance for the NPP to win the next presidential election (See "Akufo-Addo Is A Great Hunter With Only A Catapult – Amaliba" MyJoyOnline.com 9/8/14).
Predictably, Mr. Amaliba offers no palpable reason to shore up his argument other than to foolhardily insist that the relatively younger Mr. Kyerematen has greater appeal among the so-called floating, or undecided, voters; and also that, somehow, Nana Akufo-Addo has no significant following outside the core membership and supporters of the New Patriotic Party.
Well, there are two pointed ways to expose the gaping emptiness of Mr. Amaliba's argument. The first of these is the fact that there are far significantly more voters among the core membership, supporters and sympathizers of the New Patriotic Party than there are floating voters to be fought over by Ghana's two major political parties. Consequently, even if Mr. Kyerematen were to be afforded the nod to lead the NPP into Election 2016, and even assuming that he had absolute command over the mandate of the floating voters, this would only give him some 15-percent of the total national ballot. And as NPP primary after primary has indicated, at best Alan Cash, as Mr. Kyerematen is popularly known, would be able to secure only about 10-percent of the votes of the core membership of the NPP.
This would put him somewhere around 30-percent of the total national ballot, which would be nowhere near the approximately 50-percentage points that Nana Akufo-Addo garnered in both Election 2008 and Election 2012. In other words, President John Dramani Mahama would have a far easier chance of defeating Mr. Kyerematen than he would with Nana Akufo-Addo.
The second argument is even more scientific and far more accurate and plausible than the first. And it regards the decision of the Atuguba-presided Supreme Court, which put the margin of votes differentiating an incumbent President Mahama and Nana Akufo-Addo in a statistical dead-heat. In other words, according to the Supreme Court, the 2012 presidential election was evenly split between the flagbearers of the National Democratic Congress and the New Patriotic Party. Mr. Amaliba cannot claim to be totally unaware of this fact. And so at best his argument favoring the flagbearership of Mr. Kyerematen over Nana Akufo-Addo could be described as strategically sophistic and pathologically self-serving.
Indeed, there is absolutely no reason for anybody to believe that Mr. Amaliba would be holding brief for Alan Cash were the latter really adjudged among the ranks of the NDC propaganda operatives to have a better chance than Nana Akufo-Addo of unseating their prime benefactor and supreme paymaster. Very likely, Mr. Amaliba's argument is one that is inspired by anxiety. We must also couple the preceding with Mr. Johnson Asiedu-Nketia's own very public admission, in the wake of Dr. Afari-Gyan's declaration of the 2012 election results in favor of President Mahama, that the 300,000, or so, vote-tally difference between his political boss and patron was primarily due to the woeful lack of vigilance on the part of NPP polling agents.
And so it couldn't be truthfully and objectively argued that Nana Akufo-Addo is a great hunter poorly armed with a catapult. At the very least, Ghana's former Attorney-General and Minister of Justice may be aptly said to be a sharp-shooter who is armed, just in the meantime, with a bazooka. There is every reason to believe that not too long from now, Nana Akufo-Addo would also be armed with an anti-aircraft missle and missile-launcher.
I mean, how else can one interpret the fact that Nana Akufo-Addo's decision to suspend his 2016 electioneering campaign, in order to focus on the limited voters' registration exercise, promptly panicked Mr. Asiedu-Nketia, the fast-talking and foul-mouthed NDC General-Secretary, into doing the same? The fact of the matter is that as Nana Akufo-Addo decides, so decide his most ardent and formidable political rivals and opponents.
The opinions expressed are the author's and do not necessarily reflect the views or have the endorsement of the Editorial Board of www.africanewsanalysis.com, www.africa-forum.net and www.wapsfeatures.wordpress.com