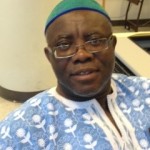 I know exactly what Ghana's former Director-General of Medical Services means, when Prof. Agyeman-Badu Akosa calls for all Mahama cabinet appointees to be subjected to at least "an hour's visit to the morgue" (See "Akosa Recommends 'Morgue Baptism' for Ministers as Antidote to Corruption" Modernghana.com 6/10/14). Prof. Akosa, whose professional training as a pathologist revolves around the surgical dissection of human corpses to ascertain the causes of a person's death, calls such an instructive visit a "Morgue Baptism" or "Baptism of the Morgue."
The objective here is to give these widely perceived corrupt politicians a first-hand experience of the wretchedness and the horrific nature of the human condition. While some of our politicians, no doubt, are apt to learn some sobering lessons, particularly the soft-hearted and lily-livered, it is not clear to me, on the whole, how such a visit could likely facilitate a drastic abatement in the level of rank and abject corruption in the country.
To be certain, it may actually double the already insufferable level of corruption in the country. And if that happens, as it is highly likely to be the case, the entire exercise would be aptly said to have been counter-productive or bathically futile, in Greco-Roman dramaturgical terms. What I am clearly suggesting here is that those who are likely to be traumatized by the sickening sight of human corpses packed, spoon-fashion, in those huge mortuary refrigerators, like a meat-packing plant, are those of our politicians who are also likely to learn a lesson or two from a well-crafted and eloquently delivered sermon on any Sunday at a church service.
For the overwhelming majority of our thoroughgoing corrupt politicians, to whom the latter practice has virtually become second nature, such grisly sight may actually convince them to intensify their dishonest and crooked ways because, after all, whether they decide to lead a righteous existence or not, they would still end up in the morgue packed up tightly with others like meat or dairy products. Remember the age-old Akan dictum: "Yebewu nti yenna?" To wit, "Should our fear of death prevent us from sleeping?"
Personally, I had my own "Morgue Baptism" at the Komfo Anokye Teaching Hospital (KATH) in the early 1980s. An unidentified young man had been fatally run over by a vehicle in the thick of darkness in the South-Suntreso Estates suburb of Kumasi, not very far from Santasi and the Opoku-Ware Secondary School. The driver of the vehicle had not bothered to stop, perhaps either because he hadn't realized the fact that he had run over a pedestrian, or perhaps purely out of the fear of mob violence, or even sheer callousness.
Anyway, the corpse of the young man had been deposited at the KATH morgue, some two or so miles away. My elder cousin, the now-retired Assistant Superintendent of Police (ASP) Chenard Kwame Sintim-Aboagye, then a Detective Corporal, had asked me to accompany him to "Gee," as KATH is popularly known, so that he could identify and thumb-print the deaceased. Out of a morbid fear of dead living things, I decided to lean against what I supposed to be the safest place in the morgue, that is, relatively far from any mortal remains.
About ten or fifteen minutes later, while Cpl. Aboagye, as he was popularly known at the Sofoline Police Station and Police Headquarters, was busy taking notes on a clipboard, a morgue attendant wheeled in the corpse of a freshly deceased woman. The latter appeared to have expired only a couple of hours before. The morgue attendant, who appeared to be heavily drunk, motioned for me to move away from where I was comfortably leaning and watching Cpl. Aboagye do his work with rapt attention. We would shortly learn that the dead young man, who had also been reported missing and was afflicted with epileptic fit, was the nephew of Maj. Akuamoah-Boateng, the former Eastern Regional Minister in the Acheampong regime, who also owned an estate bungalow in South-Suntreso.
I quickly moved out of the way, as the morgue attendant also removed the white shroud from the body of the starkly naked woman, flung open the huge mortuary refrigerator door against which I had been leaning comfortably and calmly, only to reveal the frozen remains of at least fifty humans, or former humans, I should say. He tossed the body of the dead woman into the refrigerator like a javelin; I felt sick to my stomach.
For about two weeks, I kept hallucinating and could barely hold any food in my stomach. My mortality had been brought home to me with such a sharp focus that I began to wonder whether life, as we presently know it, was worth living at all.
Kwame Okoampa-Ahoofe, Jr., Ph.D. Department of English Nassau Community College of SUNY Garden City, New York Board Member, The Nassau Review
E-mail: okoampaahoofe@optimum.net
The opinions expressed are the author's and do not necessarily reflect the views or have the endorsement oft he Editorial Board of www.africanewsanalysis.com, www.africa-forum.net and www.wapsfeatures.wordpress.com