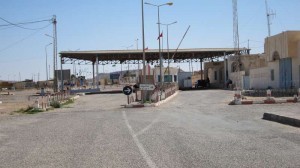 Fighting for control of a crossing point on the Tunisia-Libya border appears to have interrupted the exodus of civilians fleeing from Libya's Western Mountains.
In Geneva, spokesperson Melissa Fleming told journalists that UNHCR was "very concerned that people fleeing Libya could be caught in the crossfire as government and opposition forces battle for control in the border area."
Before the fighting at the Dehiba crossing intensified on Thursday, UNHCR staff saw long lines of vehicles carrying ethnic Berber families waiting to cross into southern Tunisia. Dehiba is located some 200 kilometres south of the main Tunisia-Libya border crossing at Ras Adjir.
UNHCR staff were unable to visit Dehiba on Friday because of the security situation, but local partners said the queues had disappeared and nobody was crossing the border.
In the past month, more than 30,000 people have fled the fighting in the Western Mountains and crossed into Tunisia at Dehiba. More than 3,100 people crossed the border on Wednesday alone, according to UNHCR staff.
The large number of recent arrivals is straining the limited resources in the area. Camps established to shelter the refugees are filled beyond capacity. UNHCR's camp in Remada, with space for 950 people, was sheltering some 2,000 on Thursday evening.
UNHCR is reinforcing the camp to a capacity of 5,000 people. Fortunately, the vast majority of people are still being hosted by the local community. UNHCR is working with the authorities to expand the capacity of existing camps and to support host families.
In cooperation with Islamic Relief, the World Food Programme and local partners, UNHCR is planning to distribute food and non-food packages to thousands of refugees and to the local communities receiving them. The majority of new arrivals are women, children and families. UNHCR is also moving emergency supplies to the Remada area, including portable warehouses, tents, mattresses and other aid items.
Meanwhile, Fleming in Geneva said UNHCR had received reports from the Somali community in Choucha camp, near the Ras Adjir border crossing, that three Somali refugees drowned off the coast of Libya Thursday morning after an Italy-bound boat carrying some 280 Africans capsized in high seas.
The three who died were part of a larger group of 20 people who had left Choucha camp for Libya some 10 days ago in order to board boats to Europe. "These deaths add to the hundreds of people who have drowned or are missing in the desperate attempt to reach the safety of Europe from Libya," Fleming noted.
UNHCR News