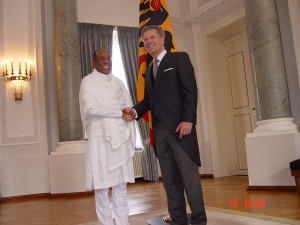 The newly accredited Ambassador of the Democratic Federal Republic of Ethiopia to Germany, Mr Fesseha Asghedom Tessema presented his letter of credence to German President Christian Wulff at ceremony at Castle Bellevue recently.
After receiving a salute from a detachment of the German Armed Forces, Ambassador Tessema was ushered into the Presidential palace by the Chief of Protocol where he appended his signature in the official Guest Book. Thereafter, the ambassador and his entourage were received by President Wulff.
President Wulff and Ambassador Tessema later retired for discussions held behind closed doors. The discussions were believed to centre on bilateral relations between Ethiopia and Federal Republic of Germany, regional and African issues.
Relations between Ethiopia and Germany have always been good and dates back to a century. The centenary festivities of the relations between the two countries were celebrated in both Addis Ababa and Berlin in 2005.
The visit by Emperor Haile Selassie in 1954 was one of the first by a head of state to the then newly established Federal Republic of Germany. To further strengthen their relations, the then Federal German President Lübke made a return visit in 1964.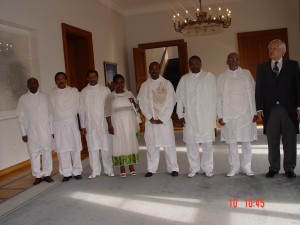 On the economic front, recent years have witnessed a continuous growth in the volume of foreign trade between the two countries. According to the Federal Statistics Office figures, in 2009, Germany imported goods worth 118 million euros from Ethiopia and exported goods worth 124 million euros to Ethiopia.
In recent years, Germany has emerged as one of the biggest buyers of Ethiopian goods taking in more than 30 percent of the country's coffee exports the main German exports to Ethiopia are finished products such as machinery, engines, motor vehicles, chemicals and medicines.
In the field of development co-operation, Ethiopia is a priority country. Ethiopia has received some 1.3 billion euros for development projects in the country since aid began more than 50 years ago. At the most recent inter-governmental negotiations in 2008, 96 million euros were pledged to Ethiopia for the period 2009-2011.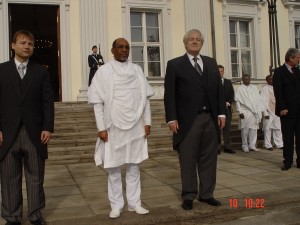 Development co-operation between Germany and Ethiopia focuses on three priority areas, namely, urban development and decentralization; sustainable land management; and sustainable economic development.
Along with numerous other donors, Germany is participating in a World Bank project to guarantee the provision of basic social services at district and municipal levels. Germany also provides funding for basic services in the health, education, water supply and agricultural sectors.
Ethiopia is one of the world's oldest advanced civilisations. Except for its occupation by fascist Italy between 1936 and 1941, it is the only country in Africa never to have been a colony. When the Suez Canal was built in the 19th century, the region became strategically important, but even then Ethiopia was able to remain independent. The country was a monarchy until 1974, and subsequently a communist military dictatorship. Until the 1990s, Ethiopia was more or less cuff off from the western international community. Today the country is a federal democratic republic and plays a key role in ensuring stability in the Horn of Africa.
By Mellisa Sheridan, ANA Diplomatic Correspondent, Berlin