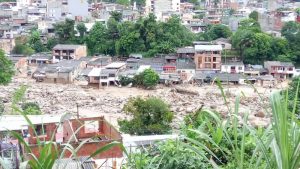 London/Lima, South America is in the grip of an unprecedented climate phenomenon that has unleashed unusually heavy rains and taken a destructive toll. Worse still, it could be several weeks away from abating.
Several countries have declared a state of emergency, including Brazil, Ecuador, and Peru, where deadly landslides in Lima Province and flooding in Piura in the northwest have displaced 300,000 people and killed more than 100.
In the latest weather-related disaster, 13 centimetres (more than five inches) of rain fell in the municipality of Mocoa in southern Colombia on Friday, most of it in just three hours. It caused three rivers to burst their banks and a torrent of muddy water and debris to sweep through the town early on Saturday morning. Most people were still sleeping. Entire neighbourhoods were levelled, and at least 270 people lost their lives.
President Juan Manuel Santos has declared a state of emergency and promised $13.9 million in aid, while blaming the disaster on climate change caused by rich countries.
More than 500 other Colombian municipalities are reportedly at risk of landslides, which, according to the World Meteorological Organization are linked to extreme weather, but also deforestation and poor land management.
Peruvian downpours
Community members in Chosica, along the banks of the River Rimac in Peru's Lima Province, know that heavy and prolonged rain in the mountains that surround them is an ominous sign. On 16 March, following two months of continual downpours, a landslide hurtled down nearby ravines gathering up everything in its wake, including scores of houses.
"It was the biggest landslide we have ever seen," said 53-year-old Daniel Humberto Rojas Ponce, who has lived in the area most of his life and is president of a local group set up by international NGO Practical Action to educate the community on disaster risk management and response.
Using machinery provided by the Ministry of Housing, Chosica's residents had built retaining walls designed to withstand most landslides, but "this time the landslide was so big that all the retaining walls collapsed into the river", said Rojas Ponce.
A week later, in the northwestern city of Piura, several large neighbourhoods were completely destroyed by flooding.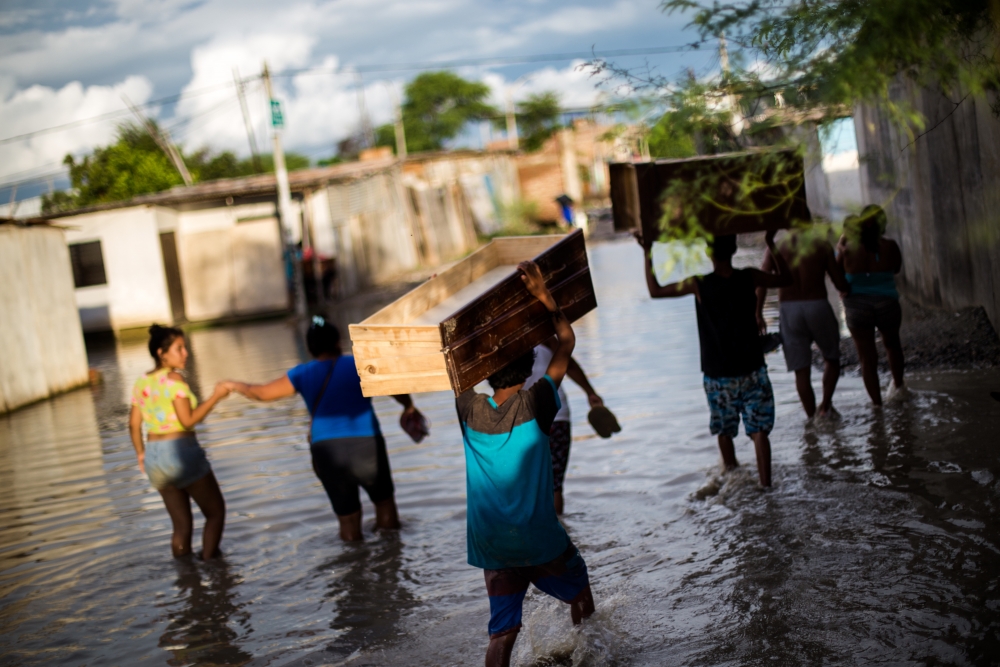 The people in the city centre were desperately trying to protect their businesses," recalled Gladys Chulga, a local resident and volunteer helping affected families. "The local government could only offer sandbags. I felt useless; I didn't know what to do and I could only watch as people lost their livelihoods."
Peru's flooding has left hundreds of thousands of people homeless and destroyed water and sanitation systems, according to the UN's humanitarian aid coordination body, OCHA, which estimates that 160,000 people are also lacking sufficient food.
New phenomenon?
By international monitoring standards, the heavy rains in Peru and elsewhere in the region do not follow usual patterns triggered by the seasonal El Niño weather phenomenon. Instead, they are the result of unusually warm surface temperatures in this part of the Pacific Ocean that began in January and continued until late March. The National Centre for the Study of El Niño (ENFEN) in Peru is referring to this localised version of the global phenomenon as a coastal El Niño.
"Scientists have not yet made a direct connection between climate change and El Niño or a climate phenomenon such as we are experiencing right now," said Pedro Ferradas Mannucci, who manages Practical Action's programme for risk management and adaptation to climate change in Latin America. "But increasingly we are questioning whether this may indeed be the case.
"I've been talking with the people in charge of Civil Defense in Ecuador who are closely monitoring the situation. They fear that this effect, El Niño or not, is set to last for a while yet and could become a global phenomenon that affects everyone."
In a statement released at the end of March, ENFEN warned that the current weather pattern is set to last until the end of May.
Time to act
Peru has always experienced a highly variable climate and, over the last two decades, has become increasingly familiar with the effects of extreme weather. But the extent of recent disasters has exposed gaps in the country's approach to prevention and risk management.
Poor urban planning here and elsewhere in the region has multiplied the impacts of the flooding and landslides. Across Latin America, millions of people squat on unclaimed land in illegal settlements known as invasiones. The settlers are usually aware of the risks they run by building on areas vulnerable to flooding, but with few other options, they take their chances.
"Seventy percent of people in [Peru] live on invaded land," said Mannucci. "Not only that, but they also build the houses themselves without technical assessments, and under these circumstances houses made of clay are destroyed incredibly rapidly."
Jocelyn Lance coordinates resilience and rapid response in the region for the EU's emergency aid department, ECHO, which is one of the only major donors providing funding for disaster risk reduction and preparedness in Latin America. He said that changing climate scenarios mean local authorities in Peru and elsewhere need to do more to stop people building in high-risk areas.
"There are so many places in Latin America where there's a high risk of landslides [that] it's impossible to cover everywhere in terms of early warning systems," he told IRIN. "What needs to be done is to clearly inform people – to tell them there's no future for you if you stay there, near a river or at the base of a mountain.
"Lots of municipalities are trying to work on this, but it needs scaling up now and it's a lot more urgent because of climate change."
Early warning
The topic of climate change mitigation has been slow to rise up the Peruvian government's agenda. Lance noted that initiatives to discourage building in vulnerable areas and to implement early warning systems varied significantly from one department to another, often in relation to the resources at their disposal. During the recent flooding, warning systems worked in some cities but not in others where there were no evacuations. Lance added that some people also waited too long to evacuate, out of fear their homes would be looted.
"If we are to succeed in preventing disasters like this and to reduce disaster losses then we need to ensure that there is a much broader understanding of the nature of disaster risk in society at large and this includes better understanding of the impacts of climate change and how it alters local weather patterns. Risk has to be addressed in local development plans," said Robert Glasser, the UN's special representative for disaster risk reduction in a statement.
"Multi-hazard early warning systems must include estimates of the potential impact of the emerging hazards and be tailored to local needs. This will be a key issue at the Global Platform for Disaster Risk Reduction which will be held in Mexico in May."
Juan Bazo is a technical advisor with the Red Cross and Red Crescent Climate Centre based in Peru and part of a team working on a forecast-based financing (Fbf) mechanism being piloted in vulnerable areas of the country. The model uses seasonal and short-term forecasts to trigger funding to prepare for a disaster before it strikes.
"What would help the most would be to have well-developed evacuation and safety plans, and to have stocks available such as water supplies for a couple of days, and mosquito nets," explained Bazo. "We are aware that the lead time between the alarm being raised and help arriving when an incident has happened is too long at present."
In Chosica, Rojas Ponce is working with Practical Action to better prepare his community for the next disaster.
"In my area, we have alarms, megaphones and a system of lights to warn people of landslides" he explained. "But we need more help and more coordination."
(TOP PHOTO: Flooding has destroyed entire neighbourhoods in Piura, Peru. Rodrigo Rodrich/Practical Action)
kas/ks/ag
Merken